[Previous Article]
-
[Next Article]
-
[Contact Author]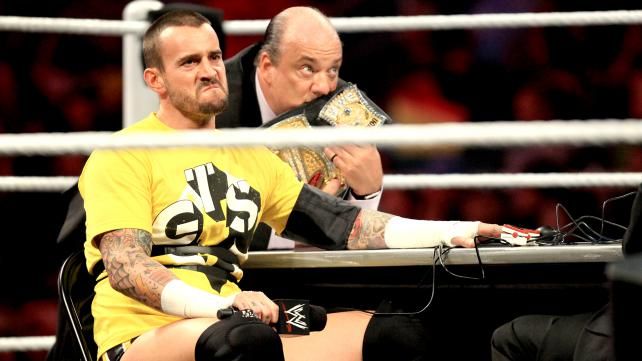 The news broke on Tuesday afternoon that the current WWE Champion CM Punk had surgery on his knee. Or did he? Since it was first reported on WWE.com a lot of people, myself included, wondered if he really had the knee surgery because obviously WWE likes to put things on their website that advance storylines.
It turns out the knee surgery was true. Punk flew to Florida where world renowned surgeon James Andrews performed the operation. It was an arthroscopic surgery (commonly referred to as a scope) that thankfully won't cause CM Punk to miss months. Instead it's an injury that might put him on the shelf for about three weeks (according to a report in the Wrestling Observer). The general feeling is he'll be healthy to compete at the Royal Rumble on January 27th.
Then on Tuesday night as the early Smackdown spoilers were rolling in, the word broke that there was a change to the TLC PPV. I wasn't going to write about it unless it was on WWE.com and then later on Tuesday there it was.
A post on WWE.com showed up with a letter "written" by WWE Chairman Vince McMahon. You can read the whole thing here, but here's what we know:
- Due to the knee injury, CM Punk does not have to defend the WWE Championship against Ryback in a TLC match at the TLC pay-per-view on Sunday December 16th. Ryback will get an opportunity when Punk is healthy again.
- A new Tables, Ladders & Chairs match with has been added to the TLC pay-per-view and it will see Ryback team up with Kane & Daniel Bryan against the group known as The Shield (Dean Ambrose, Seth Rollins & Roman Reigns). For the first time ever in a TLC match, the match will end via pinfall or submission only.
After reading all of this news, I decided to break down my thoughts into five different takes.
1. The 2013 Royal Rumble is much more important than TLC.
If you look at WWE from a business perspective then you have to understand that WWE isn't going to be that concerned with Punk missing a PPV like TLC because on the list of important shows it is near the bottom.
It was important for Punk to take care of this knee injury now because if it lingered and got worse over the next month then he could have missed the important match at Royal Rumble against The Rock. You know that match, right? It's the one that WWE told us was happening with Punk's heel turn on the July 23rd edition of Raw. In the 19 weeks that have followed, the main goal on WWE television has been to turn Punk heel. Now the match is just eight weeks away and I think I speak for a lot of fans when I say I'm very excited about it.
Look at them from the perspective of PPV buyrates. Last year's TLC reportedly did 182,000 worldwide buys. Meanwhile, the Royal Rumble (consistently the second biggest WWE PPV in terms of buys) reportedly did 476,000 worldwide buys. That's a difference of 294,000 buys, which is obviously a significant number.
When you consider that this year's Royal Rumble has the WWE Champion CM Punk (and his 400+ day title reign by that point) defending against movie star The Rock the expectation would be that the Rumble could reach 600,000 worldwide buys. I don't know what WWE thinks they can do in terms of numbers, but I think it's possible.
That's why it is important that Punk took care of this injury now. Missing another pay-per-view match with Ryback is not as big a deal as missing a Rumble match with Rock, which is a dream match to a lot of fans. It's better business to make sure the WWE Champion is ready for that. That's the money match.
For those of you wondering about the "thirty day rule" that wrestling companies sometimes enforce saying a champion has to defend their title within thirty days, I wouldn't get worked up over it. It's something that is usually ignored.
2. The new match added is interesting in terms of how it will be booked.
On one side you have Ryback, who has yet to be defeated clean in his WWE career. On the other side you have The Shield, who have yet to have a match on WWE television (not counting NXT) and are being pushed strongly.
It's interesting to note that while The Shield has attacked Ryback, Kane and Bryan on multiple occasions, they also attacked Randy Orton and The Miz this past week on Raw. At this point neither one of them has a match at the TLC event. I wonder if that means something (Orton heel turn?) or if they're just off the card due to lacking a feud these days. It would surprise me to see Orton or Miz left off any pay-per-view lineup at this point in their careers.
The big question is who loses the match?
If it was me, there's absolutely no way I would book The Shield to lose this match. You must book them strong if you want them to have any kind of impact on future storylines. Remember when The Nexus lost an elimination tag match at Summerslam? That hurt them. It meant nothing for the non-Nexus guys to win because they were already regularly featured performers. The Nexus guys were new, yet when that match happened they lost. Learn from your mistakes, WWE. Book The Shield as a group that wins matches right from the beginning.
I think it would be a mistake to have Ryback get pinned, so scratch that scenario out. The most likely scenario would see Kane or Bryan losing the match for their team. They can lose matches and it won't hurt them at all.
How they get to that point is something we'll see. I'm very interested in seeing how it plays out.
3. The new match added needs a better stipulation.
The stipulation for the six man tag is TLC rules except you can only win by pinfall or submission only. Basically that means it's a No Holds Barred match except they'll likely make the tables, ladders and chairs more accessible to the performers. It doesn't feel like a unique match.
I understand why the TLC stipulation is there because that's what the event is called and you need a TLC match on the card. However, this doesn't feel like a special match in any way.
If you want to add something to the match, why don't you say that the winning team gets to be the last three members to enter the Royal Rumble match? It gives some incentive to the performers while also making the fans care about the match that much more.
4. What match will main event the TLC pay-per-view?
More than likely, the main event of TLC was going to be CM Punk defending the WWE Title against Ryback in a TLC match. What will it be now? There are three choices.
Big Show vs. Sheamus in a Chairs Match for the World Title
I liked their match at Hell in a Cell a lot. The Survivor Series match was okay too although the finish was a bit flat. Round three has the added Chairs stipulation to it. I think there's a chance this could go on last especially if Sheamus is booked to go over in the end, but with Big Show likely to retain I think it will be a match that takes place in the middle of the card.
Ryback, Kane & Daniel Bryan vs. Dean Ambrose, Seth Rollins & Roman Reigns
It's a big match because Ryback's in it and he's clearly in the position to be considered a top guy these days. I think putting Ambrose, Rollins & Reigns in a main event is a sign that they are going to be pushed strongly. However, I have my doubts that their "first match" (unless they have a TV match before then) is going to be in the main event of a pay-per-view. Obviously it could happen. I just think there's another match that is more likely to go on last.
John Cena vs. Dolph Ziggler in a Ladder Match for the Money in the Bank Contract
This is my pick for the match that will go on last because of "The John Cena Factor." What's that? It simply means that if John Cena is wrestling on a pay-per-view the chances are high that his match is going to go on last. It happened earlier this year against The Rock at WrestleMania 28, Brock Lesnar at Extreme Rules, John Laurinaitis at Over the Limit, Big Show at No Way Out and when Cena won the Money in the Bank briefcase in July he went on last too. This year more than any other year "The John Cena Factor" has been in full effect.
Like most internet wrestling fans, I'm not a fan of the stipulation added to this match where Ziggler has to put his briefcase on the line. I don't think he's going to lose it, but that's more of a hunch than anything. Losing it would hurt Ziggler too much. Winning the match would help his career a lot. Of course if he didn't want to lose the briefcase he could cash it in before TLC. I doubt WWE will bring up that point because it makes sense and…well…WWE storylines don't always make sense.
I fully expect Ziggler to defeat Cena at TLC in their ladder match. I hope I'm not wrong about that one.
5. The next CM Punk vs. Ryback WWE Championship match should be on the January 7th edition of Raw
In the Vince McMahon letter posted on WWE.com, it notes that CM Punk vs. Ryback will happen at least one more time (on television or PPV).
I'm a big fan of putting major championship matches on Raw once in a while. I'd be fine with doing that once per month. Not more than that. However, when it comes to the first Raw of the year you can spend weeks building it up as a big deal. In the month of December, viewership tends to be down because during the holiday season people are busy with a lot of things and it's generally a slow month for WWE.
The first Raw of the year is January 7th. You can use the weeks in December to hype it up. The Rock is heavily rumored to be there. How Punk beats Ryback is something the booking team can figure out, but the show ending angle after Punk's win is easy.
After Punk retains the WWE Title against Ryback, you can end the show with Rock coming out, hitting a Rock Bottom on Punk as payback for July 23 when Punk hit the GTS on Rock and end it with Rock holding up the WWE Title.
The chances are very good that if you promote a Punk vs. Ryback WWE Title match on Raw and the return of The Rock on the same night that ratings will be significantly higher than where they have been in the past four months. It's very likely that would be the most viewed edition of Raw since it permanently moved to three hours in July.
In Closing
I always say that the best time of year in WWE begins with the first Raw of the year through the WrestleMania season, which includes the Extreme Rules pay-per-view because it features a lot of WrestleMania rematches.
This year because of CM Punk's knee injury the plans of December are changing around a bit. I think if they plan things long term a bit and tell some stories that make sense they can get out of this injury situation in a positive way.
I'm excited about WWE in 2013. There are a lot of things to look forward to. Before we get there, though, 2012 has to end on the right note.
John Canton - [email protected]
TJRWrestling.com and TJRSports.com
Twitter @johnreport
Facebook TJRWrestling.com on Facebook