[Previous Article]
-
[Next Article]
-
[Contact Author]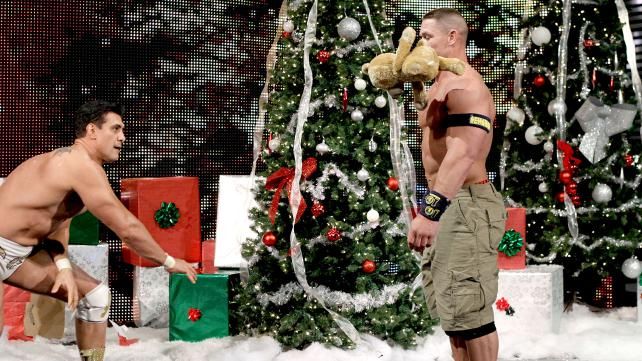 Live (actually it was taped) from Pittsburgh, Pennsylvania this is the Raw Deal for episode #1022. Follow me on Twitter @johnreport.
Since this week's Raw took place on Christmas Eve (was taped on December 18) I'm not going to write my usual 5,000+ word Raw Deal column. There won't be three stars of the show or the scoreboard at the end of it. No "preferred" Raw Deal banner either because it's not a regular episode. While I don't want to completely ignore the show, this is probably going to be the least watched edition of Raw this year. I'll still cover everything that happened, but less detailed than my usual. Let's get to it.
The opening video shown on Raw was the Happy Holidays video from WWE where everybody on the roster sang their own version of the Jingle Bells song. Some parts of it were pretty cool, but not all of it. Here's the video.
The announcers for the show were Michael Cole and Jerry Lawler.
Raw began with Santa Claus entering the arena. It was a dude in full Santa gear. As he was greeting fans at the side of the stage, Alberto Del Rio entered in his white Mercedes Benz and he hit Santa with his car. A Christmas tree fell on Santa too. Paramedics checked on Santa while some in the crowd chanted "you killed Santa" at Del Rio. Santa did the stretcher job. Ricardo Rodriguez was freaking out about what happened while Del Rio was shocked by it. They went to break with Santa being taken away.
Analysis: I'm pretty sure that's the first and only time in my life where I have ever written the sentence: "Santa did the stretcher job." If you want to traumatize kids right before Christmas that's a good way to do it. Keep watching the full three hours to see Santa's revenge, I guess.
(Commercial)
Back from break, they replayed the Santa accident. They even had crime scene tape around where it happened. Santa gave the thumbs up to let everybody know he was okay.
By the locker room, Booker T walked out of the trainer's room. He told the wrestlers that the show must go on. John Cena confronted Alberto Del Rio, who said it wasn't his fault. Booker said Del Rio would have a "Miracle on 34th Streetfight" against Cena. Booker told Cena to do it for Santa. Cena yelled: "Santaaaaaaaaaaaaaaa!"
Analysis: This whole thing was a tongue in cheek segment. It set the tone for the show. What happened to Del Rio's face turn? Not sure. But I doubt this will change anything.
Cody Rhodes vs. Kane
The story of the match was Cody working on Kane's arm. Kane went for a Chokeslam, but Cody fought out of it and hit Kane with a Distaster Kick on the arm. After Cody exposed a turnbuckle, Kane threw him into the exposed turnbuckle and Kane ended up winning the match clean with a Chokeslam after six minutes.
Winner: Kane
Analysis: Basic singles match. On a show like this you know the babyfaces are going to do win, so it's not something to get upset about if you're a Rhodes fan.
(Commercial)
Santa's Helper 8 Diva Tag Match: Kaitlyn, Natalya, Alicia Fox & Layla vs. Eve, Tamina, Rosa Mendes & Aksana
The women were all dressed in Christmas outfits. Of course they're PG outfits. All the women got a chance to get in the ring to show their stuff for a little bit. You can tell the editing team added in some cheering reactions when Layla tagged in. Tamina hit a nice Samoa Drop on Layla and then the heel side worked over Layla. Kaitlyn got the hot tag to set up the finishing sequence. Everything broke down and all eight women started going at it with each one of them getting spots in. It ended with Kaitlyn hitting the Gutbuster on Eve for the win after about four minutes.
Winners: Kaitlyn, Natalya, Alicia Fox & Layla
Analysis: It was what you'd expect from a divas tag. Kaitlyn getting the pin on Eve makes sense since they have that feud that apparently will never end. I would vote for Natalya having the best outfit. I'm also biased.
Later in the show is a "Lumber-Jack Frost" Match between Sheamus and Big Show.
(Commercial)
Backstage, Dolph Ziggler was hugging AJ Lee while they were on a carpet and there was a fire in the background. I guess it wasn't supposed to be backstage, but you know. They were watching highlights of TLC when AJ cost Cena his match against Ziggler.
Analysis: Heels just want to have fun.
After another video about Santa, Matt Striker was outside the trainer's room to check on Santa and didn't really have an update.
Analysis: Can Santa eliminate the third hour of Raw?
The Lumberjacks entered the arena for the Show/Sheamus Lumberjack match. They all had Santa hats on. That's touching.
(Commercial)
"Lumber-Jack Frost" Match: Big Show vs. Sheamus
This is non-title. When Show avoided a Brogue Kick by bailing to the floor, the members of 3MB were hesitant to throw Show back into the ring. That gave us a vintage floor to commercial break.
Analysis: I think that's proof that the vintage floor to commercial break spot does not take the holidays off.
(Commercial)
As they returned from break, Show regained control in the ring. Sheamus broke a Show submission attempt by grabbing Show's nose. It's worth noting that Show was singing while this was going on. When Show threw Sheamus outside the ring, all the lumberjacks started brawling on the floor. Show continued to dominate in the ring with a suplex. Show blocked a Sheamus comeback by hitting a Chokeslam for just two. The crowd barely reacted to it. Show missed his back splash off the middle rope, so Sheamus capitalized by getting a nearfall with the White Noise. Show dumped Sheamus to the floor when he went for a Brogue Kick. The Lumberjacks brawled again. Back in the ring, Show missed the KO Punch because Sheamus ducked it. Sheamus hit the Brogue Kick and he covered to win the match after 14 minutes.
Winner: Sheamus
Analysis: ** We've seen them wrestle three pay-per-view matches against eachother and they've had dozens of house show matches, so the chemistry is there for them. This wasn't a serious match like the others they had, but it was still pretty good. Does the non-title win mean Sheamus gets another World Title match? It wouldn't shock me if he does, but I think any result from this show can be thrown out the window in terms of advancing storylines.
Post match, all the Lumberjacks started brawling in the middle of the ring. The babyfaces won that brawl and sent the heels out of the ring. The babyfaces celebrated with Sheamus.
There was a video from Tribute to the Troops where Miz had Kermit the Frog as a guest on MizTV. Miz wanted Kermit to marry Miss Piggy, Damien Sandow showed up and wondered why anybody would want to marry Miss Piggy. Miz decked Sandow with a punch to make everybody happy.
(Commercial)
David Otunga was in the ring. I assume he got baby oil for Christmas. And every day. He talked about the Santa accident from earlier in the show saying Del Rio was the victim and the crowd wasn't buying it. Zack Ryder came out to say they have a match.
Zack Ryder vs. David Otunga
Otunga was on offense early. Ryder made his comeback with a face crusher and then a dropkick off the middle rope. Ryder hit his forearm in the corner followed by the Broski Boot for a two count. Ryder hit the Rough Ryder and got the pin in a match that went about three minutes.
Winner: Zack Ryder
Analysis: A basic house show match that has been the theme of this show. Each guy got their offense in and the face finished him off.
Backstage, Booker and Teddy Long were talking backstage. Brad Maddox showed up to ask if Booker was going to give him a contract. Booker said no, but was giving Maddox another chance against an elf and that it would be "great" television. Booker emphasized the "great" part as he laughed about it with Teddy.
Analysis: Maddox gets more TV time than a lot of regulars in WWE even though he "doesn't have a contract." That is vintage WWE.
(Commercial)
Kofi Kingston & The Miz vs. Wade Barrett & Antonio Cesaro (Team Stereotypical Evil Europeans)
I added in that team name there. All four guys got into the action early by using quick tags. Kingston went for Trouble in Paradise, but Barrett saw it coming and bailed to the floor. Cesaro took control of the action with a spinebuster on Kingston. Barrett hit a backbreaker and then Cesaro tagged in to drop Kingston with a gutwrench suplex for two. Miz got the hot tag at the same time as Barrett. Cesaro broke up the Skull Crushing Finale, Miz dropped Cesaro with a DDT and then Miz avoided a Barrett attack. Kingston hit Barrett with the Trouble in Paradise. Miz finished off Barrett with SCF for the win after five minutes.
Winners: Kofi Kingston & The Miz
Analysis: *1/2 Another babyface win. If that shocks you then you should remember the theme of the show. If they did this match on a regular edition of Raw with these four guys and they gave them a lot of time it would be excellent. On this show it was too short, but there was nothing wrong with it. Once again it was like a house show match.
(Commercial)
Back to the AJ/Dolph Christmas party. AJ put the Money in the Bank briefcase under the tree. AJ had a robe on and she took it off to reveal the "Stealing the Show" Ziggler shirt. The shirt was cut up in the style that most of her shirts are. They looked in eachother's eyes lovingly.
Another replay of Santa getting hit by Del Rio's car. Back to the trainer's room, still no updates from Matt Striker.
Analysis: The Santa thing is booked in a tongue in cheek manner yet the announcers are using their "SERIOUS VOICES~!" to talk about it.
Brad Maddox entered the arena with his version of Santa Claus is Coming to Town except he ended it by saying "Brad Maddox is coming to Raw." Maddox still had no theme music, for the record. They went to break.
(Commercial)
The Great Khali vs. Brad Maddox
Hornswoggle was with Khali. At first Maddox thought it was Hornswoggle as his opponent, but it's actually Khali dressed like an elf. Khali hit Maddox with a series of chops that sent Maddox to the floor. Maddox actually got some brief offense by taking out Khali's knee and hit a dropkick. Khali got back to his feet, Maddox jumped off the middle rope and Khali chopped him. Khali finished him off with the Punjabi Plunge for the win after three minutes.
Winner: The Great Khali
Post match, Hornswoggle said "get well soon" to Santa. Khali said "Merry Christmas, I wish you" and then Happy New Year. Then they danced.
Analysis: Khali's song was the greatest thing ever. The match was not.
CM Punk was shown using his crutches backstage as he and Paul Heyman made their way towards the ring. That was a welcome sight after the "match" that was just on.
(Commercial)
The WWE Champion CM Punk entered the ring along with his friend Paul Heyman, who held the WWE Championship in his arms. Punk still had his crutches along with his new "Knees 2 Faces" shirt. The crowd was chanting "Here We Go Steelers" and Punk made fun of them for it. They are eliminated from the playoffs as of this week. Punk said Christmas is ruined because of Ryback injuring him. He looked at Heyman as he said it ruined Hanukah too. Punk said instead of Ryback getting punished, he gets rewarded with a title shot. Punk reiterated that he had nothing to do with Brad Maddox or The Shield costing Ryback the title. Punk said his holidays involve rehab to get back in shape while the fans spend their holidays getting drunk.
Paul Heyman grabbed the microphone to tell the crowd they shouldn't boo Punk. He mentioned Punk has been the WWE Champion for 400 consecutive days. Heyman said there's a conspiracy to take the WWE Championship away from Punk. Heyman mentioned that Ryback failed twice to beat Punk for the WWE Title.
Punk grabbed the microphone to say that he's better than Ryback on two legs and even on crutches he would be better than him. Punk said he was the best in the world. That led to Ryback's music starting up. Ryback made his way to the ring.
As Ryback made his way into the ring, Heyman told Ryback that if he touches Punk they will sue Ryback for assault. Ryback said he didn't need to touch Punk because he got his Christmas gift. Ryback mentioned that on January 7th when Punk is medically cleared to compete again they will have a Tables, Ladders & Chairs match for the WWE Championship like they were originally scheduled to have. Ryback led the crowd in "T-L-C" chants. He intimidated Punk as they went to break.
Analysis: As usual, Punk was fantastic during the promo. The crowd absolutely hated him, which is the number one goal of any heel. Heyman's speech was fun too. It was interesting that Punk didn't even mention The Rock, but I understand keeping the focus on the Punk/Ryback storyline for line. Ryback's speech was basic. He got his point across well. It was the first segment on the show that advanced a storyline because they announced the January 7th WWE Title match would have TLC rules. We knew about the January 7th match on Smackdown last week, but Ryback announcing the TLC stipulation is new. It should also be noted that The Rock is returning to Raw on January 7th. That will be a big night for WWE although it goes up against college football BCS Title game pitting Alabama vs. Notre Dame. That will get a huge audience. I'm all for WWE loading up against it, though. They have to.
(Commercial)
Daniel Bryan vs. Damien Sandow
It's beard vs. beard. Not that you care, but I won the TJR Staff fantasy NFL league with a team named Intellectual Saviors. You're welcome. Bryan was on offense early with a running knee onto Sandow on the floor as he yelled "no" repeatedly. Bryan hit a running forearm to the head of Sandow followed by a series of kicks to the chest. Sandow took control of the action by throwing Bryan head first into the ring post while Bryan was on the apron. Sandow worked over Bryan for a few minutes and hit the Elbow of Disdain. He would be great at Festivus parties. Bryan missed a top rope headbutt. Sandow went for The Terminus. That didn't work because Bryan countered it and applied the No Lock to win the match after about five minutes.
Winner: Daniel Bryan
Analysis: ** That was okay. This could be a great singles feud one day with Bryan as the crazy babyface against the intellectual savior. This match was at about half speed considering how good these two are, especially Bryan.
There's a 12 man tag match after the break.
(Commercial)
Justin Gabriel, Tyson Kidd, Santino, The Usos (Jimmy & Jey) & Brodus Clay vs. Tensai, The Prime Time Players (Darren Young & Titus O'Neil) & 3MB (Heath Slater, Drew McIntyre & Jinder Mahal)
All twelve of these guys were lumberjacks earlier in the show. There were so many quick tags in this match. There wasn't any long term advantage in the match until the heels focused on one of the Uso brothers. Cole wanted 3MB to sing Christmas carols. Uso got his feet up to knock down O'Neil and then he tagged in his brother. Full Nelson drop on Slater, who was now legal for his team. Running butt splash in the corner. That got a two count and then all twelve guys went at it. Kidd & Gabriel hit dives on the floor to take out the other 3MB guys. Slater got a neckbreaker on Uso. The rest of the guys started brawling and Santino knocked down Tensai with the Cobra. Uso got a superkick to Slater. Moonsault by Gabriel, top rope elbow by Kidd and then a top rope splash by one of the Uso brothers to pin Slater. The match went about six minutes.
Winners: Justin Gabriel, Tyson Kidd, Santino, The Usos (Jimmy & Jey) & Brodus Clay
Analysis: ** It was a fast paced tag match that was a lot of fun. As has been an ongoing theme during the show, the babyfaces were triumphant once again. I don't think Cole told us what Uso was in the ring at any point. I'm pretty sure it was Jey that got the pin.
We were reminded about Cena vs. Del Rio later and another update on Santa Claus.
(Commercial)
Backstage, Daniel Bryan and Kane were talking. Bryan said he loves opening presents and that it's his favorite day of the year. Kane said he didn't like Christmas. Kane gave Bryan a box that had a Slammy Award in it. Bryan gave Kane a cute puppy. Kane said he was angry. Bryan took the puppy away and left while Kane wanted to talk about it.
Analysis: It was okay, but not one of their funniest segments. Apparently Kane likes to eat dogs now.
It was story time with AJ and Dolph. It was a story about costing John Cena the Money in the Bank briefcase. Then they started to make out under a mistletoe that was beside the tree. They knocked over the tree as the camera closed in on the fireplace.
Analysis: Did AJ set the record for most guys kissed in one calendar year in WWE? At least on camera. There's a Kelly Kelly joke in here somewhere, but I'll let you make that one yourself.
By the trainer's room, Matt Striker said Santa's condition had taken a turn for the worse when all of a sudden Jingle Bells started to play. Santa's feet started moving. He's getting better.
Analysis: I know I shouldn't complain, but I repeat what I wrote about the writers taking the night off.
John Cena made his entrance for the main event.
(Commercial)
Ricardo Rodriguez had trouble introducing Del Rio. He's apparently been crying for over two hours because he's apparently got the heart of a six year old. They repeated Santa getting hit by the car again. How many times did they show this? I lost count.
Miracle on 34th Streetfight: John Cena vs. Alberto Del Rio
This had street fight rules, so anything goes. Del Rio threw Cena into the steel steps. Cena came back, yelled "Santa" when he got his energy back and when he got a pinfall attempt there was Rodriguez to pull the ref out. Del Rio took advantage in the ring. Rodriguez gave Del Rio a box, which he opened and there was a pie. Cena moved, so Del Rio hit Rodriguez in the face with the pie. Facebuster by Cena, who then threw Del Rio outside the ring. They took the fight to the top of the entrance ramp. Cena opened a box that had TV monitor in it, so he hit Del Rio in the head with it. They went to break there.
(Commercial)
The fight continued at the top of the ramp, but Ricardo distracted Cena in order for Del Rio to regain control. Del Rio opened a present to reveal a teddy bear. He threw it at Cena. The announcers were laughing. Comedy brawls are fun. Cena put a wreath on Rodriguez. Del Rio brawled with Cena down to the ringside area. Then Cena went back to the top of the ramp, the crowd yelled "get the tree" and then Cena threw a tree onto Del Rio. Cena found a bowling ball. He rolled it into the balls (or should I say jingle bells?) of Del Rio. You can't have a comedy brawl without a ball shot. Back in the ring, Cena sprayed Del Rio with a fire extinguisher. Rodriguez jumped on Cena's back and applied a sleeper hold as the music of Santa Claus started up. Ricardo wanted a hug from Santa, but instead Santa hit him with his bag of toys. Santa pulled out a sock from his pants and applied Mr. Socko to Del Rio. Cena hit the Attitude Adjustment on Del Rio for the win after 15 minutes.
Winner: John Cena
Analysis: *1/2 Like I said it was a comedy brawl. The bowling ball to the nuts is always a good way to get a positive reaction from the crowd. Once again I'm not sure if they just killed the Del Rio face turn or not. We'll see when they do a serious show. And if you read Smackdown spoilers for this week (taped last week) then you would know he's back to being a face again already.
Post match, Santa celebrated with Cena. Santa did the "bang bang" thing. Yes folks, it was Mick Foley. They hugged to end the show.
Three Stars of the Show
I think I can pass on this week. I guess Santa Claus would be the obvious winner, though.
The Scoreboard
Not doing this either. This wasn't a show that furthered storylines. I'm not going to rate it compared to other episodes of Raw this year.
Final Thoughts
Babyfaces won every match. Don't let any match result upset you or cause you to be angry about anything you saw. It was a campy show that doesn't really matter in the long run.
The most newsworthy thing we got out of the show was that when CM Punk defends the WWE Title against Ryback on the January 7th edition of Raw. That's what the match was originally supposed to be at the TLC PPV, so it's nice that they're still doing it. Hopefully Punk's fully healed by then. He's expected to be fine by that point. Of course a TLC match is very dangerous, but I have faith in them working a safe match that Punk will get through without injury.
-----------------
The Raw Deal next week will either be on the Tuesday (New Year's Day) later in the day or on the Wednesday morning. I'm not sure yet.
Happy New Year for next week!
Until next time, thanks for reading.
John Canton - [email protected]
TJRWrestling.com and TJRSports.com
Twitter @johnreport
Facebook TJRWrestling.com on Facebook