[Previous Article]
-
[Next Article]
-
[Contact Author]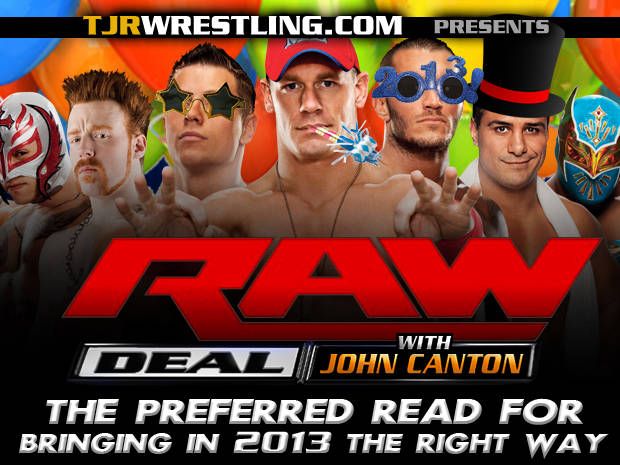 Live (actually it was taped) from Washington, DC this is the Raw Deal for episode #1023. Follow me on Twitter @johnreport.
Before we begin, I hope you all had a wonderful holiday season and a very Happy New Year as well.
The Raw intro theme song played to begin the show. I guess Guy Voiceover wasn't working during the holidays because there was no "coming up on Raw" video. As usual no pyro to start the show. Saving money. Everybody has a price, after all. The announcers for the show are Michael Cole and Jerry Lawler as usual.
We start with MizTV, which is now held at the top of the ramp. Miz said that according to Vickie Guerrero it's a "championships on the line" kind of night. That means all current champions get to decide their opponents. Miz welcomes the guest for his show: John Cena.
They sit on chairs for the interview. There are two couches behind them as part of the set I guess. Cena wished everybody a Happy New Year. Miz went over the story of how AJ Lee turned on Cena at TLC, so he wanted to know what John thought about AJ. John told him it was over, but Miz said that Dolph & AJ invited him to a toast to bring in the new year. John said he'll be there later in the show.
The interview was interrupted by Damien Sandow & Cody Rhodes aka Team Rhodes Scholars. Sandow fired off a quote, Cena insulted him by saying a quote from Washington Redskins QB Robert Griffin III saying "you suck" and then the fans chanted "RG3" after Sandow said he had never heard of him. Cena also called Sandow & Rhodes "Gandolf & Magnum PI" at one point. Do people under the age of 25 know who Magnum PI is? Doubt it. I'm 32 and I only know of the show a bit, but I don't remember watching it. Cena started taunting Rhodes for his mustache by staring at it. All of this led to a tag match challenge as Cena wanted to team up with Miz against Sandow & Rhodes. Cena told Miz things are different than when they were against eachother, so they were a cohesive unit here. They went to the ring to start the match.
Analysis: I think most Miz TV segments set up matches. Miz didn't even talk that much in this segment and he was the host of the show. There was a lot of Cena. The taunting of the mustache reminded me of the "mole" bit from Austin Powers. Not as funny as the announcers thought it was, but it was fine.
John Cena & The Miz vs. Team Rhodes Scholars (Cody Rhodes & Damien Sandow)
Early chants in the match were "Cody's mustache" and of course the "Let's Go Cena/Cena Sucks" chant. Cena and Rhodes started off, but then their partners quickly tagged in. Nice flapjack by Miz onto Sandow, who rolled to the floor for the vintage floor to commercial break.
(Commercial)
Back from break, Cena hit a suplex on Sandow. Miz tagged in, so the heels isolated him in their corner. Cole started talking about the amazing year that John Cena had. We get it Cole, WWE likes Cena. Sandow hit his Elbow of Disdain on Miz. The mustache man dropped Miz with a kick to the ribs to keep him grounded. Miz got a quick rollup on Sandow, who did everything he could to keep Miz from getting a tag. Rhodes hit a front suplex on Miz for a two count. Cole kept going over nicknames that Sandow has given himself like the "Duke of Decency." Rhodes went for a bulldog, but Miz shoved him away and both guys were out in the ring for a double KO spot. Hot tag to Cena while Sandow also came in. Cena hit his shoulder tackles and then the spinning suplex. Five knuckle shuffle for Cena. Rhodes snuck in to deck Cena with a Disaster Kick. I love that move. Miz hit the Skull Crushing Finale on Rhodes. Cena gave Sandow the Attitude Adjustment for the pinfall victory after 13 minutes. The crowd loved it.
Winners: John Cena & The Miz
Post match, Cena raised the hand of The Miz. That's how you turn Miz into a bigger babyface. Use Cena to help him get over more.
Analysis: **1/2 If you team up two main event level guys (or at least one) they usually get wins over permanent tag teams. I've never liked that thinking because I think if you want to get the team over you should have them win matches like this, but obviously the goal of this match was to show that Miz has changed his ways. The loss doesn't really hurt Team Rhodes Scholars because it will be forgotten pretty quickly.
There was a New Year's Eve party backstage. David Otunga told Vickie Guerrero it would be "The Year of Otunga." Does that mean it's going to be a year of baby oil? Sounds scary to me. Dolph Ziggler showed up to the party as Vickie said he wasn't invited to the party. She told him to enjoy his New Year's toast and that he had a match later against Sheamus.
Analysis: Even though they're still heels they are playing up the idea that Vickie isn't friends with Dolph anymore. I'm fine with that. Not all heels have to be friends. Neither one of them is turning babyface anytime soon I'm guessing, so this is more of a squabble (fun word) between former allies.
(Commercial)
There was a clip showing the January 11, 1993 version of Raw. It said that January 14th, 2013 would be the 20 year anniversary of Raw. The commercial said that superstars from the 20 years of Raw are coming home. That will be fun.
Analysis: I assume a lot of the people we saw at Raw 1000 in July will be there. Hopefully Steve Austin can appear at this event in Houston because he had knee surgery last July and wasn't able to be at Raw 1000. It's been a long time since we've seen him on Raw. I'd mark out huge if he was there.
Back to the party, The Primetime Players were saying "millions of dollars" at Vickie. CM Punk and Paul Heyman talked to Vickie. Punk said he wanted to wrestle on the show, but he was still injured. He had crutches. Punk said he would have picked Ryback as his opponent, so then he suggested Ryback vs. The Shield later on Raw. Vickie ended up booking that match for later in the show and she took credit for it even though Punk suggested it. Punk gave Vickie a kiss on the cheek as if to thank her. Heyman went for a kiss on Vickie's cheek, but it didn't happen. Heyman is such a jerk. Love that guy.
Analysis: Interesting match choice for later. The crutches Punk has are a gimmick. He'll be cleared to wrestle by next week.
In the ring was Antonio Cesaro to deliver a speech about how he's the US Champion in the capital city of the United States. He said he ran into a man that was the symbol of America. That would be his opponent for the show. The music of Sergeant Slaughter started up. Slaughter made his way to the ring along with the US flag.
United States Championship: Antonio Cesaro vs. Sgt Slaughter
The title is on the line. The crowd liked seeing Slaughter when he entered, but once the bell rang it got quiet. After about a minute of trading moves, Slaughter applied the Cobra Clutch submission hold. Cesaro hit an uppercut to the jaw. That set him up for the Neutralizer for the pinfall victory after about two minutes.
Winner: Antonio Cesaro
After the match, Cesaro went for The Neutralizer again. He hit it. Nobody made the save for Slaughter because I guess they still don't know who is going to feud with the US Champion.
Analysis: Smart move to keep it short since Slaughter is 64 years old. Cesaro really needs a feud. How about somebody like Miz? That would work for me. I'm guessing his speeches about how no American can beat him for the US Title could be the return of a babyface Jack Swagger, who could then win the title from him. Or it could be the "debut" of The USA Guy, which is the gimmick Derrick Bateman has now. There are a lot of possibilities, though.
(Commercial)
The 3 on 1 handicap match was promoted as The Shield's first match on Raw. It's against Ryback.
In the locker room, Kane & Daniel Bryan said they wanted to face The Shield as their opponents. Now they can't pick them. They wondered who they could fight. Behind a partition were 3MB, who claimed they were rehearsing their music. Kane & Bryan yelled "yes" repeatedly so it looks like they've found their opponents.
Back at the party, Big Show went up to Ricardo Rodriguez and asked him if he wanted a chance at the World Heavyweight Title. Rodriguez was nervous, so he dropped his drink on Show's foot. Show wished Rodriguez good luck.
Analysis: Show picked the ring announcer while Cesaro picked an old guy as an opponent. Heels are such jerks, aren't they?
In another area of the party, Kaitlyn brought Mae Young into the room. All the other girls were excited about seeing her as if she was Santa Claus there to give them gifts. Eve showed up and she said she's beat all of the girls, so she said she picked Mae Young as her opponent. Mae accepted the match of course.
Analysis: Did Eve ever beat Natalya in a title match? Not on PPV, that's for sure. In my second "check the age of an old person" moment of the show, Mae Young will turn 90 years old in March. Good for her.
The tag team champions Kane & Daniel Bryan made their entrances for their tag title match against two members of 3MB. That's after the break.
(Commercial)
It looks like it's Slater & McIntyre for the 3MB group. They're the better two members of the 3MB trio.
Tag Team Championships: Team Hell No (Kane & Daniel Bryan) vs. Heath Slater & Drew McIntyre w/Jinder Mahal
Bryan started off with Slater and he applied the surfboard as Lawler said they should put Daniel Bryan's face on a carton of goat milk. Cole laughed at that joke way too hard. McIntyre tagged in and Bryant hit his running dropkick in the corner. Slater made the blind tag, so he held open the ropes and Bryant went crashing to the floor. Mahal gave Bryan a running knee attack to the face. Triple H just marked out bro. Back in the ring, Slater hit a nice neckbreaker as the heels isolated Bryan. Bryan was able to put Slater down and he got the hot tag to Kane while McIntyre also tagged in. Kane hit a sidewalk slam for two. Kane hit his clothesline off the top rope that he does in every match. He threw Slater over the top rope to the floor. Bryan took out Mahal with a running knee off the apron. Kane gave McIntyre a Chokeslam. Bryan tagged in and hit a top rope headbutt to win the match after six minutes.
Winners: Kane & Daniel Bryan
Analysis: ** It was a formulaic tag match like the one that started the show. This one was shorter, which is okay considering the opponents of the tag champs. It was a solid television match to put over the tag champs. I'm actually surprised Team Hell No has held the tag titles as long as they have, but it's been a nice surprise. They have solidified the importance of those titles.
After the break we'll hear from CM Punk and his doctor.
There was a commercial hyping that The Rock would be live on Raw next week on January 7th. Smart to promote that. He's kind of a big deal.
(Commercial)
The WWE Champion CM Punk made his entrance along with his adviser Paul Heyman and a guy in a suit that we are to assume is the doctor of Punk. Punk had crutches with him. They aired a replay of when Ryback attacked Punk on Raw four weeks ago. Paul Heyman introduced us to the WWE Champion CM Punk, who has held the championship for 407 consecutive days.
CM Punk talked about the year it was for him and he listed off the names of all the superstars he beat in 2012. He said he's accomplished a lot, but being the champion has allowed him to see things others can't see. Punk said he's had his share of injuries and he finds a way to endure. Punk called himself a fighting champion. Punk introduced his doctor and told the fans to be polite. "He's a doctor!" That's what he told the fans. The doctor was a guy that works for WWE's website by the way, according to the Wrestling Observer.
The doctor of CM Punk showed us an x-ray picture of what a healthy knee looks like. Then there was a picture of Punk's knee. The doctor said there were clear signs of swelling in Punk's knee. Punk said even though he has that injury he still has to have a TLC match against Ryback next week. Punk said that next week he's going to show everybody that he's the best in the world. Punk's doctor said that he cannot allow Punk to compete. Punk acted shocked by this. All of a sudden the music of WWE Chairman Vince McMahon started up.
Mr. McMahon made his way towards the ring. He went into the ring to wish us a Happy New Year. McMahon said he was wondering how Punk was going to weasel out of this WWE Title match. Heyman said Punk wasn't weaseling out of anything. McMahon said that next week WWE officials will examine Punk and then Punk will defend the WWE Title against Ryback next week. Punk said he knows McMahon thinks that Punk had a deal with Brad Maddox and The Shield. Punk re-iterated that he had nothing to do with Maddox or The Shield. McMahon said the investigation in the matter would continue. Heyman wondered how McMahon would force Punk into competition next week in the same city where Vince's dad first promoted wrestling.
McMahon said if doctors didn't clear Punk then Punk would be out of the title match. Heyman and Punk were okay with that. McMahon said if Punk can't compete next week then Ryback's opponent will be…long pause…(look at Heyman)…you. The crowd popped huge. McMahon said he had a feeling it will be Ryback vs. CM Punk next week. He wished them a Happy New Year.
Analysis: I liked that segment a lot. No major sarcastic comments from me because you had three of the best talkers ever (yes I said ever) playing their parts well. Heyman was awesome in talking to McMahon and questioning his promoting skills. Punk is such an outstanding heel. McMahon's better as a heel, but obviously his presence alone makes him a very good babyface as well. That was a 15 minute promo done to promote the CM Punk vs. Ryback TLC Match for the WWE Title next week. They did it without bringing out Ryback to have a confrontation with Punk, which could have helped the build up to next week's match. It was still an entertaining segment, though.
Sheamus vs. Dolph Ziggler is up after the break.
(Commercial)
As Dolph Ziggler made his entrance along with AJ Lee and Big E Langston, they replayed the attack that Langston did on Cena a couple of weeks ago. Sheamus got a nice pop for his entrance.
Sheamus vs. Dolph Ziggler w/AJ Lee & Big E Langston
Sheamus hit a body slam early followed by a back body drop that was a little sloppy because Ziggler landed on his shoulder. Lawler had a good line: "I'd be in great shape if my blood had as much circulation as AJ Lee!" Sheamus was going for the ten clubbing blows to the chest of Ziggler, but then Langston walked over so Sheamus stopped. Ziggler went to the floor as we got the vintage floor to commercial break.
(Commercial)
Back from break Ziggler was in control because he hit a huge leaping DDT in the middle of the ring. Ziggler hit a dropkick for a two count. After Ziggler charged into the ropes, Sheamus hit a powerslam for a two count. Ziggler went to the top, so Sheamus followed and hit a Fallaway Slam off the top rope (Sheamus was standing on middle rope) for another two count. Sheamus went up top, so Ziggler hit the ropes in order to crotch him. Sheamus fought back to deliver his shoulderblock off the top. Ziggler tried a comeback, but Sheamus countered with the White Noise to drop Ziggler once again. The crowd was chanting "Brogue" and Sheamus signaled for it. Langston grabbed the foot of Sheamus. Ziggler went for the Zig Zag, but Sheamus used the ropes to block it. Sheamus sent Ziggler over the top rope where Langston ended up catching Ziggler. All of a sudden The Shield ran into the ring to attack Sheamus. That led to the disqualification finish. The match went about 13 minutes.
Winner: Sheamus via disqualification
With Langston and Ziggler taking off, Sheamus tried to fight off the three members of The Shield. He sent Ambrose and Rollins out of the ring, but then Reigns delivered a Spear to Sheamus. That set up the Triple Powerbomb to Sheamus. They went to break there.
Analysis: **1/2 It was a good match until the finish. I didn't expect a clean result because of the wrestlers involved in the match and that's fine once in a while. If it happens too often it's annoying, but having a DQ finish on television is okay with me. I liked the offense of Ziggler early and then the heroic comeback by Sheamus. They incorporated Langston into the match well. Then the attack from Shield came out of nowhere, but they once again brought excitement to the show. When they show up you wonder what they're going to do and who their next target might be. It's a fun angle.
(Commercial)
Plug time. Two years ago I wrote reviews of every 30 man Royal Rumble match (the first one was actually 20 men while 2011 had a 40 man Rumble). I am re-posting them every day (not Tuesdays) throughout the month of January only on TJRWrestling.com so be sure to stop by the site to re-live every Royal Rumble battle royal with me. Here's the review for 1989 and 1990. The best Rumble match ever (in my opinion) was 1992 and that will be posted on Thursday. Woo!
Back from break they replayed The Shield's attack on Sheamus.
Backstage, Wade Barrett wondered who Kofi Kingston would defend the Intercontinental Title against. Barrett wanted the title shot. Kingston said he already beat him at TLC. Despite that, Kingston gave Barrett his rematch saying he beat him before and he'll beat him again.
Analysis: The heel asks for a match so the babyface just gives it just like that. That's what a noble babyface does. Also the heels earlier in the show challenged weaker opponents because heels are jerks.
In the locker room, Brad Maddox talked to CM Punk & Paul Heyman. Maddox said he lost chance on Smackdown. He said he wanted a job with them. Heyman said they couldn't help him. Heyman told Maddox to get out of the locker room, get out of the arena and get out of his life.
Analysis: For a guy who "doesn't have a job" Maddox continues to get more airtime than a lot of WWE performers that actually have a job. My guess is that Maddox is working with Heyman & Punk and has been for months. Heels lie, of course.
Back to the New Year's Eve party, Mae Young felt sick. They put her on a table to see what was wrong with her. The best part of this was how concerned Darren Young & Titus O'Neil were about Young's condition. Darren should have called her grandma since they have the same last name. A doctor showed up to examine her and he revealed that Mae Young was pregnant. She said: "Not again." Trust me Mae I had the same thought.
Analysis: That is typical WWE humor even though this was not that funny.
(Commercial)
There was another commercial for the January 14th episode of Raw as the 20th anniversary of Raw.
Eve made her entrance for her Divas Title match. Eve said she was looking forward to facing a Hall of Famer like Mae Young, but now she can't. She wanted to be declared the winner via forfeit. Eve wanted a photographer to take pictures of her. Kaitlyn made her entrance. Kaitlyn tackled Eve and then she threw Eve into the security wall. This was a fight rather than a match. The crowd was dead during all of it. Eve escaped with her title. The crowd booed a little as Eve left.
Analysis: Did you hear the lack of a crowd response, WWE? This feud isn't interesting. They made a point of saying that every title would be on the line on this show yet we didn't get a Divas Title match. Even when they try to put over the Divas Title they fail to accomplish the goal of making fans care about the competitors in the division.
Backstage, Alberto Del Rio talked to Ricardo Rodriguez about his match against Big Show on Raw. Ricardo said he was going to win the World Title and do it for Del Rio. Alberto said he treated Ricardo like dirt before, but tonight he's going to be there for him. Ricardo said this fight is for them. Alberto put his scarf on Ricardo's shoulder and he gave him his car keys. He told him to do it with style. They went to break.
Analysis: Even though Del Rio was a heel on last week's Raw he was back to being a babyface on Smackdown and also on this show. I assume the face turn is a permanent thing going forward.
(Commercial)
Big Show made his entrance. They recapped what happened on Smackdown when Big Show had to face Santino and then Ricardo Rodriguez (random drawing), but neither match happened so Show faced Del Rio. Ricardo made his entrance in Alberto's red Mercedes Benz. Alberto walked out with Ricardo.
World Heavyweight Championship: Big Show vs. Ricardo Rodriguez w/Alberto Del Rio
There's a WHC match I never thought I'd write in bold letters. Show chopped Ricardo a few times. He put Ricardo on the top rope, so Ricardo kicked him in the head. Show missed a corner charge and then Ricardo hit a running enziguiri to the back of the head of Show just like Del Rio. Ricardo went to the middle rope and jumped off, but Show just chopped him in the chest to knock him down. Show signaled for the KO Punch. Del Rio ran in to prevent Show from hitting the KO Punch on Rodriguez. The match went about three minutes.
Winner: Big Show via DQ
Post match, Del Rio attacked Show. He went after his legs. Del Rio tried to fire up the crowd. With Show on his knees, Del Rio kicked him in the face.
Analysis: They did a match as best they could. While Ricardo is actually a very accomplished wrestler they weren't going to do something where he got in a lot of offense on Show because at this point he's just a comedy character. They handled the match well. The crowd isn't that receptive to the idea of a babyface Del Rio. It's going to take some time. My assumption is they will do Big Show vs. Alberto Del Rio at Royal Rumble. Show is a good opponent for Del Rio to turn babyface against. I guess we're supposed to forget that Del Rio lost to Sheamus many times over the course of four months in the summer and probably doesn't deserve another World Title match. That's what happens in WWE, though. Logic doesn't matter.
Kofi Kingston made his entrance for the Intercontinental Title match. That's after the break.
(Commercial)
Intercontinental Championship: Kofi Kingston vs. Wade Barrett
Kingston started off showing his athleticism to get a nearfall early on. Was Wade Barrett a bare knuckle fighter? I wish they would tell us. Of course they mentioned it one minute into the match. Kingston went for Trouble in Paradise, so Barrett held onto the ropes to avoid the move. The action spilled to the floor after each guy went for a hiptoss and of course that brought us to the vintage floor to commercial spot.
(Commercial)
Back from break, Barrett decked Kingston with a big boot to the face. Barrett hit a Pumphandle Slam for two. When Barrett went for a big boot by the ropes again, Kingston ducked him and kicked him in the face to send Barrett to the floor. Kingston hit a springboard crossbody block outside the ring. That was a cool looking move. Back in the ring, Kingston picked up the pace as he made his comeback. SOS by Kingston got a two count. Kingston threw punches while he was by the turnbuckle, so Barrett came out of the corner with Powerbomb for two. That's a famous Undertaker spot. Barrett avoided Trouble in Paradise and he hit Wasteland for a count of two. It's no longer his finisher, so I guess he can't win with that anymore. Kingston got a surprise rollup for two. Barrett came back with a clothesline. Kingston got boots to the face and then he missed a top rope crossbody attack. Barrett capitalized with the Bull Hammer elbow to win the match after 12 minutes.
Winner and NEW Intercontinental Champion: Wade Barrett
Analysis: *** That was a fun match. The portion of the match after the commercial break was exciting. They had a lot of great nearfalls and reversals of a lot of their signature moves. The finish made a lot of sense because Kingston missed a high risk move only for Barrett to capitalize with his Bull Hammer elbow for the win. I thought that Barrett would in the title at TLC. I was off by a few weeks. The results of this match were spoiled on WWE.com and their Twitter accounts immediately after this was taped. I guess the idea was to create buzz about the match. I'm not sure if it worked.
At the New Year's Eve party, Mae Young was on the table with her legs up. Apparently she was in labor even though she didn't look like she was pregnant. They hyped other stuff on the show before going to break.
Analysis: Painful.
Another commercial for The Rock on Raw next week. I like him a lot, so I won't insert any sarcastic comments about too many promos of the same thing.
(Commercial)
They replayed the Christmas Eve Raw storyline for some reason. I don't get it. They spent two earlier segments on the show trying to push Del Rio as a face and then you replay the moment from the week before where Del Rio hit Santa Claus with his car? I don't get it. It's best to just move on from this silliness.
Santino and Zack Ryder showed up to the party. Where were they before? Jobbers have lives too, I guess. They showed Mae on the table. Everybody was encouraging her to push as Khali held her legs up. Kane and Bryan showed up to yell "yes" and "no" repeatedly. They had comical sound effects as Hornswoggle emerged as "The New Year's Baby." Mae held him in his arms as everybody yelled "aww" at the "baby" that is a man in his 20s with many tattoos on his awkward shaped body. Back at the announce desk, Cole was laughing as if this segment was funny. Lawler said after watching that he's almost mad at the doctors in Montreal for saving his life.
Analysis: Good line by Lawler. That segment was brutal. If you want to know why Cole is beloved by his bosses it's because he laughed at that segment as if it was the funniest segment he's ever seen. It's a perfect example of sucking up to your bosses. I remember working at a job where my boss told awful jokes and I had to fake laugh at them. Things like that make me glad I can work for myself now. As for the stupid pregnancy bit, thank God it's over. That's all there is to say.
The Shield entered the ring through the crowd. They had some generic rock music. It's their first match on Raw. The show went to break as they awaited Ryback.
Analysis: Thanks to The Shield for saving us after that horrific segment.
(Commercial)
Ryback made his entrance to a nice reaction from the crowd.
The Shield (Dean Ambrose, Seth Rollins & Roman Reigns) vs. Ryback
The Shield triple teamed Ryback as I noticed a "Feed Me Smores" sign in the crowd. That's great work by that fan. Sheamus ran to the ring to brawl with The Shield. The match didn't even happen after about one minute of action.
Match Result - No Contest
With Sheamus in the ring, The Shield attacked Sheamus and neutralized him as well as Ryback. All of a sudden the music of Randy Orton started up. The story is that The Shield injured Orton's shoulder a couple of weeks ago. Ryback gave Rollins a Gorilla Press Slam over the top rope to the floor. RKO to Ambrose. The Shield retreated by running through the crowd. The babyfaces stood united in the ring.
Analysis: I was actually looking forward to what they would do in a match, but we didn't get that. It was nice to see some babyfaces save Ryback. It looks like they can do a pretty big six man tag match in the near future between those six guys. Since Ryback has the title match on January 7th it wouldn't shock me if they did The Shield vs. Ryback, Sheamus & Randy Orton on the January 14th Raw that is the 20th anniversary of the show. Could that lead to an Orton heel turn?
Backstage, Dolph Ziggler and AJ Lee were preparing for their New Year's toast.
(Commercial)
Next Monday night on Raw: CM Punk vs. Ryback in a WWE Title match with TLC rules. If Punk isn't cleared for action then it will be Ryback vs. Heyman. My prediction is Punk wins because of The Shield and Brad Maddox all helping. Then it's revealed that Punk was lying about working with them and that they are all part of the same group. It would stack the deck against The Rock for his match at Royal Rumble against Punk. Makes sense, right?
New Year's Toast with Dolph Ziggler & AJ Lee
Dolph Ziggler was in the ring with AJ Lee & Big E Langston. He had on a white suit while AJ was wearing a white dress and Langston was in his ring gear looking serious. Any time heels in wrestling wear a white suit or a white dress it's usually a signal that an angle is about to happen and they are going to get dirty.
Ziggler talked about how 2012 was all about the build to John Cena vs. The Rock at WrestleMania 28. Ziggler pointed out that Cena said he could not lose and then we saw pictures of Rock dropping Cena with the Rock Bottom to win the match. The match was eight months ago and they can't show a video of it? Weird. Ziggler pointed out that Cena said it was a match he could not lose, but then he lost again. Ziggler said Cena did something else equally impressive the next night on Raw as Lesnar delivered the F5 to Cena. No mention of Cena beating Lesnar at Extreme Rules (I almost wrote Backlash) of course. Ziggler said there's no shame in getting beat up by Brock Lesnar, but how do you account for this? Then there was a clip of John Laurinaitis beating John Cena at Over The Limit thanks to Big Show giving Cena the KO Punch. Ziggler showed a clip of the 1000th episode of Raw when Cena had his WWE Title match against Punk. As we know, Cena became the first person in history to cash in MITB and lose due to Big Show interfering. Cena ended up getting three more WWE Title shots on pay-per-view, but that wasn't brought up either. Ziggler asked AJ how Cena ended his year. AJ said he ended it by her knocking him off the ladder. We saw a clip of the end of the Ziggler/Cena TLC match when Ziggler won.
Ziggler said that Cena had the most embarrassing year of his life yet the fans still voted for him as Superstar of the Year. AJ: "And they say I have mental problems." Good line. She said the WWE Universe needs psychiatric help. Ziggler said that Cena hasn't changed in the last ten years because he still wears the baseball cap and jean shorts. Ziggler said Cena's time is up because Ziggler's time is now. Ziggler said "my time is now" which is the title of Cena's theme song. You may have heard it a few times over the years huh? Ziggler said that Cena was not invited to the toast anymore, so he asked Langston to stand guard to make sure Cena didn't show up. Langston stood outside the ring. AJ Lee said they should toast the man who will rule 2013 and she said he was the man that she loved. They had a drink of champagne. Then they started to kiss. That was the cue for John Cena's music.
John Cena made his entrance as Langston stood in front of him. Cena called Langston, "Mr. T" and said he wasn't there to fight. Cena said that Ziggler was right and that 2012 was not a banner year for him. Cena said if you are judged by your last accomplishment then 2012 is the year of Dolph & AJ. Cena talked about all of AJ's relationships saying he was the fifth guy and now Ziggler is the sixth guy she was with. A woman in wrestling that gets around? That's preposterous! (That's also very heavy sarcasm on my part.) Cena said he had a photo of their wedding wardrobe: it was Ziggler in a dress, AJ in a suit and Langston in a dress. Then there was a photoshopped pic of the Dolph/AJ baby. Then there was a family photo of AJ's family and there were about 20 superstars' heads photoshopped onto baby heads. Among the heads on babies shown were Hillbilly Jim, Matilda the dog (oh the comedy), Mr. Fuji, The Buschwalkers, Howard Finkel, Ranjin Singh (he's a writer in WWE so maybe he wrote this segment), Eve (how does that work?) and Ricardo Rodriguez among others.
Analysis: I'm guessing Vince McMahon laughs a lot whenever he sees a photoshopped image of somebody because they love going to that gag. If you ever have a job interview with WWE and you get a chance to meet Vince McMahon you should always have a funny photoshopped picture with you. Maybe I'll take my own advice on that one. Hmmm.
Ziggler said that Cena has nothing and that's why all he can produce is doctored photos. Ziggler said he'll be a World Champion in 2013 while Cena will still be a loser. Cena said they're supposed to be there having fun on New Year's Eve.
Cena said that he owned up to all of his losses in 2012 and he didn't accept the Superstar of the Year award out of respect. Cena said it was his tenth year and he had one bad season. If you look at it from a drawing standpoint it was a GREAT year because his matches with Rock and Lesnar did huge business.
Cena pointed out that Ziggler has been there for seven years. Cena said during that time all Ziggler has said behind the curtain is "I'm really, really good all I need is a push." It's rare you'll hear a word like "push" used on WWE TV. Cena said the only way a guy like Ziggler gets a pair of nuts is by buying them at a concession stand. Nice line. Cena said the Dolph Ziggler story goes like this: "First you were a caddy, then you were a cheerleader, then you had blonde hair, then you had brown hair, now you have blonde hair , then you had a large girlfriend, now you have a small girlfriend, now you've got a large man and you walk around with a suitcase." Then he said he had irritable bowel syndrome because Ziggler talked about being "so damn sick" all the time.
Cena claimed he had a big announcement for 2013. Cena said that he's entering the Royal Rumble match as of right now. He said he doesn't care who he has to beat for the WWE Title whether it's Dolph, Big E, Ryback, CM Punk, Big Show or even Rock himself because he's going to be the WWE Champion in 2013. The crowd cheered loudly. He was really fired up for this promo and they liked it.
After Cena's energized speech, Ziggler insulted Cena's wardrobe by saying talk is cheap just like Cena's clothes. Cena insulted Ziggler's white suit and said he had a lot of jokes about AJ in a white dress. Cena said that his wardrobe hasn't changed because he is still full of hustle, loyalty and respect. Cena said out of respect he wanted to toast Dolph and AJ with the one thing they are full of: poop. He didn't say it; he merely pointed at the ring. Right on cue, poop (or some brown stuff looking like shit if you want to be technical) dropped from the ceiling and went right onto Dolph & AJ as they stood together in the ring. The show ended with Dolph and AJ yelling about what happened.
Analysis: Good promos from both guys despite the silliness of the ending. That was done to make the crowd happy to end the show, so in that sense it worked. Ziggler showed a lot of heel charisma and did an excellent job of showcasing why he feels he's better than Cena. Meanwhile, Cena showed a lot of fire in his promo when he wasn't bringing out photoshopped images. I'd like to officially announce that John Cena is my pick to win the Royal Rumble. It's been five years since the last time. I expect it to happen this year.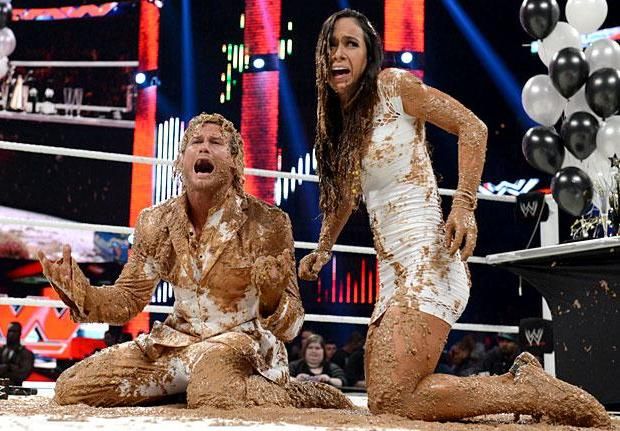 This picture is proof that Dolph Ziggler can sell anything…even shit.
To wrap up the show we got a commercial hyping up next week's Raw featuring the return of The Rock. That was the official end of the show.
Three Stars of the Show
1. Wade Barrett
2. Dolph Ziggler
3. John Cena
The Scoreboard
4.5 out of 10
Last week: NA
2012 Average: 5.80
2012 High: 9 (January 30)
2012 Low: 3 (July 9 & December 17)
Last 5 Weeks: NA, 3, 5, 6, 7.5
That's it for the 2012 scoreboard. I don't have any kind of wrap-up for this at the moment. Maybe I will have something in next week's Raw Deal.
Final Thoughts
It was not that exciting of a show. Obviously they knew the audience would be lower this week due to New Year's Eve, so they are loading up next week's January 7 show rather than doing a lot this week. I'm very excited about next week's show especially because these last two episodes of Raw were examples of WWE mailing it in. The January 14th show will have a nostalgia feel to it since it will be twenty years of Raw and a reunion of sorts.
The "Champion's Choice" theme was a nice idea (similar to TNA's Open Fight Night concept), but only the IC Title match was very good and everything else was an example of silly booking. Obviously the Big Show/Ricardo thing was done to further Del Rio's face turn.
I liked the IC Title change on Raw. You don't have to do title changes on PPV all the time. It raises the importance of TV matches to have them change a title on Raw like that. I hope that's something they do more often in 2013. My opinion is they should defend the secondary titles on television a lot more than they currently do because it would make fans care about the matches more.
Lastly, this isn't the official Royal Rumble poster, but it should be. Thanks to TJR reader Bryan Sheward for sharing this one.
Now you know the rules! If only WWE would tell us the rules!
-----------------
That's all for this one. It's the first of many posts from me in 2013.
On Thursday on TJRWrestling.com we're posting our 2013 Staff Predictions for the year. I'm also continuing to post Royal Rumble match reviews on a daily basis through the end of the month.
I have some other works brewing in my mind. The holidays were good for re-charging the batteries so to speak. Bring on 2013.
Until next time, thanks for reading.
John Canton - [email protected]
TJRWrestling.com and TJRSports.com
Twitter @johnreport
Facebook TJRWrestling.com on Facebook