[Previous Article]
-
[Next Article]
-
[Contact Author]
-
[Forums]
- In preparation for his match against WWE Champion CM Punk this Sunday at the Royal Rumble, The Rock is training with 3rd generation WWE superstar Michael McGillicutty. The Rock tweeted on Thursday:
"One of my favorite ring training partners: @WWE 3rd generation beast Joe Hennig. #TalentedToughAndHumble"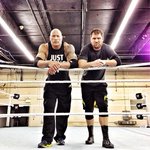 - According to WWEDVDNews.com, former WWE announcer and TV host Todd Pettengill was recently spotted at WWE Headquarters in Stamford and is rumored to be hosting the upcoming "Best of In Your House" DVD set that will be released on April 30th.
- Today's wrestling birthdays include former WWE Diva Michelle McCool (33) and WWE legend The Honky Tonk Man (60). McCool posted this "birthday vlog" on Youtube:
* Pictures of THE ROCK Filming GI JOE: Retaliation