[Previous Article]
-
[Next Article]
-
[Contact Author]
John Cena: "Have had very few moments to reflect on life, this week I took much needed time. Focused more than ever. Evolution begins with the 1st step."
Alberto Del Rio "Today is the day R. Rumble I will defend my WHC with everything,and at the end a giant will fall to have ADR as the last man standing."
CM Punk: "Spoiler alert. Jinder wins rumble."
Roman Reigns: "Woke up!..Alive and well!!. Not looking good for those at the Rumble. #FinishTheFight #BelieveInTheShield"
Jim Ross: "@WWESheamus ... Remember that you have no friends or allies the the rumble. HUGE money awaits the winner. Apologize later if compelled."
Lilian Garcia: "In Phoenix, AZ today for @WWE #RoyalRumble !!! I'm sure it's going to be off the hook! Don't miss it!! Tonight on PPV @ 8pm ET! :)"
NXT Star Bo Dallas: "Today is where it begins #ruletherumble"
Cody Rhodes: "2012Rumble. 6 eliminations, 2 of em' Hall Of Famers. Tonight 2 important matches for myself. #Pageantry"
NXT Diva Paige: "Tonight is the night! #RoyalRumble #nxtdivas #WWE"
Zack Ryder: "Sitting in the empty arena for tonight's @WWE #RoyalRumble. I'm practicing pointing to the #WrestleMania sign."
Titus O'Neil: [email protected]: PrimeTime Player @titusoneilwwe and I are ready for @wwe #royalrumble #millionsofdollars"
Dolph Ziggler: "the world knows i can go all night long, now its time to show the @WWE #1 #RoyalRumble #ZigglersBetter"
Antonio Cesaro: "Muskeltraining abgeschlossen und auf dem Weg zum #RoyalRumble. Zwischenstopp @WWE RR Pre-Show um dem Miz den Mund zu stopfen #USChampion"
Wade Barrett: "Getting ready for the #RoyalRumble. My fave @WWE event since I was knee-high to a grasshopper."
The Rock "I can feel it coming in the air tonight.." AM visualization. #ElectrifyingFaith Next @WWE Champion."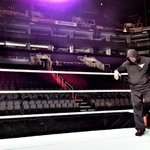 * ROYAL RUMBLE SCRIPT Leaks: Details Revealed For Tonight's PPV