[Previous Article]
-
[Next Article]
-
[Contact Author]
- On Monday's RAW, Vickie Guerrero declared that Dolph Ziggler will get his choice of entering the Royal Rumble match at either #1 or #2. Based on a tweet from Ziggler on Sunday afternoon, it looks like he'll be the first entrant:
"the world knows i can go all night long, now its time to show the @WWE #1 #RoyalRumble #ZigglersBetter"
- Matt Striker tweeted the following cryptic comment on Sunday evening, with less than two hours to go until the Royal Rumble:
"I just saw 2 surprise entrants in tonight's Royal Rumble arrive at the bldng. One had a present for me Remember the Rumble is open to ANYONE"
"I love how the Internet THINKS it knows whose in the bldng ? Lets just say the " present" will be put to great use tonite."
- WWE superstars have already been tweeting pictures of themselves pointing at the WrestleMania 29 logo that will be hanging at the top WWE arenas starting tonight (click to enlarge):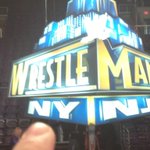 - According to ProWrestling.net, WWE had contacted former WWE and WCW wrestler Diamond Dallas Page to be a possible entrant in tonight's Royal Rumble 30-man Battle Royal match. No word on whether he agreed to appear, but there were some talks about it.
* ROYAL RUMBLE SPOILERS From Inside The Arena: HUGE Names Returning Tonight!