[Previous Article]
-
[Next Article]
-
[Contact Author]
-
[Forums]
- Adam Jones, a guitarist from the band Tool, was at Sunday's Royal Rumble pay-per-view and proposed to his girlfriend before the show went on the air. The proposal was shown on the Titantron for the entire building to see and thankfully she said yes.
- After returning to WWE at the Royal Rumble, Sin Cara noted on Twitter that he will be at tonight's WWE RAW from Las Vegas.
- Tyson Kidd tweeted the following picture (click to enlarge) of his knee following recent surgery:
"This is what everyone's knee looks like right?"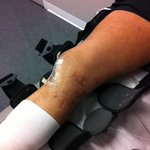 - Chris Jericho continues to tweet about his surprise return at last night's Royal Rumble:
"Still in shock? I know I am! The response has been INCREDIBLE!"
* PICTURE PROOF That It Was THE SHIELD That Attacked THE ROCK Last Night