[Previous Article]
-
[Next Article]
-
[Contact Author]
- WWE.com has published a new article question what is left for CM Punk to accomplish in WWE.
- Ryback tweeted the following about The Shield on Tuesday:
"I will find a crack in The Shield and shatter it. I may get temporarily shutdown, but I always recharge a lil stronger. #UnlimitedEnergy"
- WWE ring announcer Justin Roberts tweeted the following photo of Vince McMahon getting stretchered out after Monday's RAW went off the air (click to enlarge):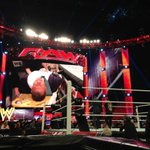 * VIDEO: BROCK LESNAR Returns to WWE & Gives VINCE McMAHON an F-5!