[Previous Article]
-
[Next Article]
-
[Contact Author]
-
[Forums]
- Former WWE/WCW champion Bill Goldberg has shot down an unfounded Twitter rumor that he has signed a four-year deal with WWE that begins after WrestleMania 29.
- WWE Superstar David Otunga was on the BET show 106 and Park this afternoon.
- Former WWE Diva Eve Torres is selling her first pair of ring-worn "BeliEVE" gold boots. She's also selling several apparel items that she's worn on WWE television, which you can view here.
- 2013 WWE Hall of Famer Bob Backlund visited WWE headquarters in Stamford, CT today. Triple H tweeted on Wednesday afternoon:
"Never know when a legend will walk into your office......today, Bob Backlund. #HOF2013"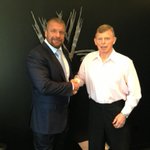 * Update On Former WWE Mid-Card Wrestlers Returning Soon