[Previous Article]
-
[Next Article]
-
[Contact Author]
- F4wonline.com reports that WWE is planning for Alberto Del Rio to have a grand entrance at WrestleMania 29 for his match against Jack Swagger. Del Rio has not driven any of his ultra luxury cars to the ring in several months.
Earlier this month, Jack Swagger teased on Twitter that he'll be driving this 18-wheeler to the ring at WrestleMania:
"Don't be surprised if you see me drive this to the ring for Mania!!!"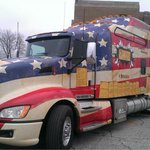 - WWE Diva Rosa Mendes has been documenting her "MuscleMania" workouts online and revealed that she did her first pullup ever over the weekend. She posted the following tweet and Tout video:
"Never been able to do a pull-up until this morning! #Musclemania progress in #wwebaltimore "
* Vince McMahon Kicking Things Into High Gear Backstage, Rumored WM29 Match Order