[Previous Article]
-
[Next Article]
-
[Contact Author]
-
[Forums]
- Tickets go on sale this Friday for TNA's upcoming Slammiversary pay-per-view from the Agganis Arena on the campus of Boston University on Sunday, June 2. For more information, visit Impactwrestling.com.
- Devon tweeted the following picture on Monday showing that Bully Ray was in fact on board with Aces & Eights before his wedding to Brooke Hogan:
yeah,,,,.... so about that wedding bro? ...lol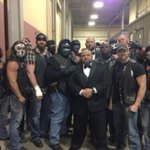 * VIDEO of Bully Ray & Brooke Hogan's Wedding - Aces & Eights Attack!