[Previous Article]
-
[Next Article]
-
[Contact Author]
-
[Forums]
- WWE Champion The Rock tweeted the following about John Cena after giving him a Rock Bottom at the end of Monday's RAW:
"Welcome @JohnCena to Rock Bottom."
"Population: 1"
"Enjoy your stay.. "
#RAW #Philly #TeamBringIt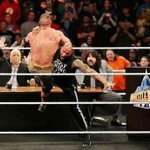 - John Cena tweeted the following to football player Chad Ochocinco, referencing The Rock and the book "50 Shades of Grey" -
"Dear, @ochocinco aka 'the black Christian Grey' please teach @TheRock a #safeword so I know when to stop kicking his ass! 4/7/13 #RTime=NOW"
* VIDEOS From RAW - Including The Great ROCK-CENA Segment (Cena Teasing Heel Turn?)