[Previous Article]
-
[Next Article]
-
[Contact Author]
- The dark main event after last night's WWE SmackDown tapings in Hershey, PA saw Randy Orton, Ryback adn Sheamus defeat The Shield by DQ when they hit Ryback with a steel chair. The Shield was setting up Ryback for the 3-man powerbomb onto a chair, but Orton and Sheamus make the save and the babyfaces hit their finishers to end the show.
- The Rock noted on Twitter that Tuesday night's SmackDown tapings from Hershey, PA was WWE's first sell out crowd in the city in over a decade. He tweeted the following picture of himself with Super Bowl Champion Torrey Smith of the Baltimore Ravens, who was backstage at the show: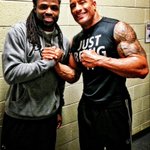 The Rock will be appearing on Good Morning America this morning to promote "G.I. Joe: Retaliation."
* Big News On RANDY ORTON's Heel Turn & Plans For Monday's RAW