[Previous Article]
-
[Next Article]
-
[Contact Author]
-
[Forums]
- Today's wrestling birthdays include TNA star Jesse Sorensen (24) and Randy Orton (33).
- Sin Cara noted on Twitter that he'll be at tonight's WWE RAW from Washington, DC. There's no word on whether he'll be competing tonight. Sin Cara has been out of action for several weeks after recently suffering a concussion during a match against Jack Swagger.
- Paul Heyman tweeted the following in advance of tonight's WWE RAW:
@CMPunk's final @WWE #RAW b4 ending The Streak @WrestleMania, where we'll URN ur PPV dollar!"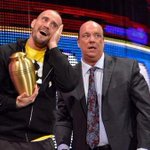 * WRESTLEMANIA 29 Results, Spoilers, News & More - WM29 NEWS PAGE