[Previous Article]
-
[Next Article]
-
[Contact Author]
- Wade Barrett tweeted the following on Monday night after regaining the Intercontinental championship from The Miz on RAW:
"Feels great to be the Intercontinental Champion once again. I'm battered and bloody, but have Gold Against The Soul. #BarrettBarrage"
- Jim Ross noted on Twitter that he' at WWE's TV studios today doing work for an upcoming DVD project on Mid South Wrestling:
"Prepping 4 LONG day Tuesday @ #WWE TV studios 4 work on Mid South Wrestling, upcoming DVD. Never b4 seen bouts. Don't know release date."
- Triple H tweeted this photo of his hand bandaged hand:
"Hand and arm not working, head to toe pain...... loved every minute!!!!! #WRESTLEMANIA29"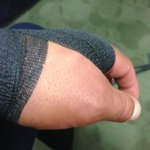 * Rumored Matches For WWE EXTREME RULES