[Previous Article]
-
[Next Article]
-
[Contact Author]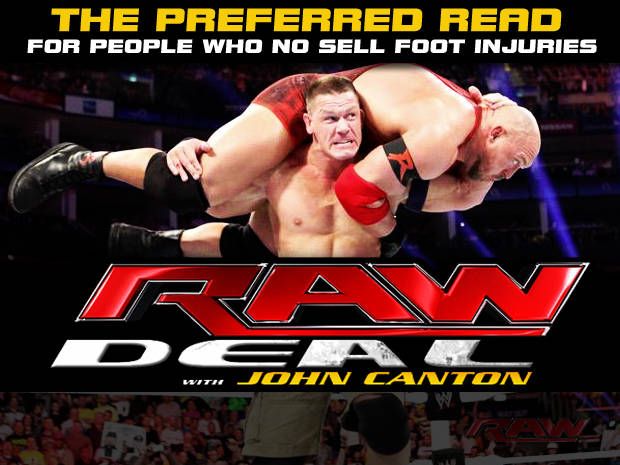 Live from Columbus, Ohio this is the Raw Deal for episode #1040. Follow me on Twitter @johnreport. Thank you.
There was no opening video package this week. Instead, Michael Cole welcomed us to the show saying that Raw was sold out in Columbus, Ohio. The announcers for the show are Michael Cole, John Bradshaw Layfield and Jerry Lawler.
Big E Langston (w/Dolph Ziggler & AJ Lee) vs. Zeb Colter (w/Jack Swagger) vs. Ricardo Rodriguez (w/Alberto Del Rio)
The winner of this match will allow their ally to pick the stipulation for the triple threat World Title match at Extreme Rules. The match was booked by Teddy Long apparently. Colter was out of the ring while Langston destroyed Rodriguez with multiple backbreakers. Langston was dominating the action early. For a moment he was slowed down, but then he destroyed Rodriguez with a clothesline. Colter hit Rodriguez with some punches. Colter faked a knee injury when Langston looked at him. Rodriguez hit Langston in the back with a bucket while the ref wasn't looking. Then he threw it at his head. He didn't react to it. Langston dropped Rodriguez with a belly to belly suplex. Del Rio hit an enziguiri on Langston, Ziggler hit a dropkick on Del Rio, Swagger took out Ziggler and Langston knocked Swagger out of the ring. Colter went to pin Rodriguez, but AJ Lee blocked that and then Rodriguez rolled up Colter to win the match. It went about four minutes.
Winner: Ricardo Rodriguez
Analysis: * Why was all that interference allowed? The explanation was that because it was a triple threat match they were able to interfere in the matchup. The crowd was into it and I thought the finish was pretty creative. Fun match. The victory allows Alberto Del Rio to pick the stipulation for the triple threat match at Extreme Rules. I like when Raw starts with a match instead of a promo. It's a nice change from what we normally get.
The announcers acknowledge that John Cena was going to be there even though he had an Achilles injury. Cena's up next to celebrate world Make a Wish day.
(Commercial)
There was a clip of John Cena on the Today Show earlier on Monday as he granted the wish of a Make a Wish kid.
The WWE Champion John Cena entered the arena with three Make A Wish kids along with members of their family. Cena introduced us to Jacob, Nicholas and Logan, who wished to experience Raw live and in person. Cena mentioned Wish.org/WWE to contribute to this great cause. Cena said they were making these three boys honorary members of the WWE Universe. Jacob said he was The Eliminator. Nicholas said he was Nick The Stitch. Logan said he was Lightning Logan. Cena encouraged the crowd to get loud. The fans chanted loudly after he encouraged it. Then the kids did the "you can't see me" hand gesture with Cena. Cena thanked the fans for making that special moment that much more wonderful.
At the announce desk, Cole encouraged us to visit Wish.org. Randy Orton was shown walking backstage.
Analysis: That was awesome and a very touching thing done by WWE as well as John Cena. I'm sure that was a moment those kids are never going to forget. Great work by everybody involved.
(Commercial)
Randy Orton vs. Cody Rhodes
Cody was already in the ring as Orton entered it when we returned from the break. Orton hit a dropkick early in the match as Cole mentioned that they were a part of Legacy together. Where's Ted Dibiase at? He's busy not being booked on television. Forearm shot by Orton. Rhodes was in control briefly, but Orton hit a suplex that led to a nearfall. There was a really slow pace in this match for the first five minutes. Rhodes hit a dropkick while the fans chanted "RKO" in support of Orton. Clothesline by Orton in the ring followed by another one outside the ring after Rhodes bailed on the floor. Rhodes used the top rope to stun Orton. Orton nearly hit the RKO, but Rhodes shoved him and Rhodes fell back into the corner. They went to break seven minutes into the match with Orton staring at Rhodes.
(Commercial)
Back from break, Orton rolled Rhodes into the ring. Rhodes came back with a beautiful Disaster Kick while Orton was on the apron. That sent Orton to the floor. Great spot! I'm a huge fan of the Disaster Kick by Rhodes, who got a nearfall out of it. Rhodes hit the uppercut punch that Goldust is famous for. Orton tried the comeback, but Rhodes got his foot up and jumped off the top rope to hit an elbow to the back of Orton's neck. Orton tripped up Rhodes while he was on the top rope. Orton hit a superplex, which has become one of his signature spots. That got him a two count. Powerslam by Orton. Overhead suplex by Orton followed by the patented DDT off the ropes. The crowd was going wild as Orton readied himself for the RKO. Rhodes countered with the Cross Rhodes. Orton kicked out at two. Amazing nearfall. Rhodes was freaking out about it. He went for the Disaster Kick, but Orton dropped him with the RKO out of midair to win the match 17 minutes into the match.
Winner: Randy Orton
Analysis: ***1/2 The match had a really slow pace early on, but they built it up very well with an exciting finish. When Rhodes hit the Cross Rhodes I thought he might get the upset victory. Nope. Orton kicked out at two to a big ovation. Then Orton won with a RKO counter, which gave us a memorable finish. I like the RKO more when it's a counter than I do when he hits it normally. It's such an awesome move either way, though. I thought Rhodes gave an excellent performance. Hopefully this leads to a good push for him in the near future because he's a guy that can be a World Champion if they push him the right way. Orton was definitely on his game here. The crowd was behind him the entire time, which helped the match a lot too. I love seeing a match get nearly 20 minutes on Raw. It would be nice if we got two of those per week. Why not? It's a three hour show. There's plenty of time.
After the match, Matt Striker asked Orton if he was haunted by the WrestleMania moment when Big Show knocked him out. Orton said he wasn't haunted by it. Instead he said he never felt so extreme. Rhodes tried to attack from behind, but Orton ended up dropping up him with another RKO.
Analysis: It looks like the Orton feud with Big Show will likely lead to a match at Extreme Rules although they still have three more weeks to get to that point.
Backstage, Nikki & Brie Bella were bragging about how they were on the red carpet last week promoting their new show Total Divas on E! One of them is in a match up next.
(Commercial)
There was a video package showing The Bella Twins on the red carpet in New York as they promoted the new Total Divas show on E! This show looks painful even though I'm a Natalya guy, so I might have to watch it occasionally to support her. I'm easily annoyed by the Bella Twins. I can't help it. The show will also follow the Funkadactyl twins and two other women that were hired through a model search. We haven't been introduced to them yet.
Brie Bella (w/Nikki Bella) vs. Naomi (w/Cameron)
Originally they said it was Nikki, but it turns out it was Brie. Naomi hit a Thesz Press followed by a leaping clothesline. Kick to the face by Naomi. Brie was outside the ring. Nikki did the switch. Nikki has the bigger boobs, but apparently the ref can't tell the difference. Nikki rolled up Naomi to win the match. Originally the ref said Brie won. Cameron complained about it to the ref. Then he reversed it to a DQ win for Naomi. It went about three minutes.
Winner: Naomi via disqualification
Post match, the Bellas attacked the Funkadactyls. They threw Naomi out of the ring.
Analysis: That was not a good segment. They tried hard, but it was painful to watch. Lawler said "what a match." He should have inserted the word "bad" before match there.
The Shield is up next. That's good.
(Commercial)
At the top of hour two, The Shield entered the arena. They made their way to the ring as JBL said he doesn't know how anybody can stop The Shield because nobody has been able to stop them so far.
Dean Ambrose spoke first for the trio by saying they have brought justice to an unjust world. Seth Rollins talked about how they have torn down the wall of injustice in WWE. From the moment they've been in WWE, not a single person has been able to stop them. There was a picture from Survivor Series when they stopped Ryback from becoming WWE Champion. Also a picture of an attack on The Rock back in January. Also a pic of an attack on Big Show in March. A pic of Sheamus getting attacked in February too. There was John Cena also. Ambrose talked about how they took out Undertaker last Friday on Smackdown. Reigns said "rest in peace."
A video package aired that showed the end of Smackdown last week when The Shield destroyed The Undertaker. They gave him the triple powerbomb through the announce table. It was an awesome segment. The video package was great like usual. Ambrose said that justice can strike without warning and without mercy. Rollins was talking about how they haven't forgotten about Cena and Ryback. Before he could finish, 3MB's music started up.
Heath Slater, Drew McIntyre & Jinder Mahal walked down to the ring. They complained about how The Shield crashed their party a few weeks ago when they were going after Triple H. They went into the ring for a confrontation. The Shield won that battle. Before they could do a lot of damage, Team Hell No walked down to the ring looking for some revenge against The Shield. The 3MB guys were down in the ring. As Kane & Bryan entered, The Shield left the ring through the crowd. Kane threw McIntyre out of the ring while Bryan threw Mahal out of the ring. Kane hit a Chokeslam on Slater. Bryan led the crowd in "yes" chants to end the segment.
Analysis: It was a good promo by The Shield. As I've written in past weeks it looks like we're set for a tag title match at Extreme Rules with Kane & Bryan defending the tag titles against The Shield. I like the idea that Kane & Bryan are not afraid to confront them. I'd expect the titles to change hands at Extreme Rules. Hopefully that leads to Daniel Bryan receiving a babyface singles push soon after.
In the locker room area, John Cena was getting his right foot taped up. Ryback walked up to him. Cena said he was injured, but not hurt. Cena said he was more effective on one leg than Ryback was on two. It was a brief segment that went about ten seconds.
(Commercial)
Michael Cole and Jerry Lawler did a plug for Domino's Pizza. Lawler said he ordered it during the show. They could track their order using an app. That's a commercial within a show.
The World Champion Dolph Ziggler made his entrance for a champion vs. champion match against Kofi Kingston. Ziggler was wearing the World Title backwards during his entrance while JBL was saying he should be more respectful.
Dolph Ziggler (w/AJ Lee & Big E Langston) vs. Kofi Kingston
This match again? Apparently. Neither title was on the line. The announcers congratulated Kingston on the birth of his child. He is married as far as I know, so congrats to him and his wife. Kingston hit a hard kick to the head of Ziggler. Nice dropkick by Kingston followed by the boots to the face. Ziggler hit a dropkick to counter a springboard attack by Kingston. With Kingston on the floor, Raw went to break three minutes into the match.
(Commercial)
Ziggler hit a clothesline on Kingston in the corner. Neckbreaker by Ziggler although he missed a splash in the corner, which meant that both men were down in the ring. Kingston made a comeback with some chops, a dropkick and then a clothesline. Boom Drop by Kingston. Ziggler avoided Trouble in Paradise and then he hit his awesome leaping DDT for a two count. I love that he's added that spot to his arsenal of moves. Kingston came back with the SOS for two. Kingston hit the Trouble in Paradise kick. AJ put Ziggler's foot on the bottom rope to help him avoid the pinfall loss. Langston pulled Ziggler out of the ring. Kingston hit a double axe on Langston outside the ring. Kingston hit a picture perfect cross body block off the top rope for two. AJ jumped on the apron. Langston jumped on the other side. Kingston knocked him off. Each guy got a nearfall. Slingshot by Kingston. Kingston missed a spinning attack off the top rope. Ziggler hit the Zig Zag to win the match after 13 minutes.
Winner: Dolph Ziggler
Analysis: ***1/4 It's not a new match, but it's still solid wrestling. It feels like I've written about this match dozens of times over the years. They have had feuds over the IC Title many times while also having random matches on television throughout the last five years or so. The right guy went over since Ziggler is the World Champion while Kingston is only the US Champion. The finish wasn't perfectly clean because Ziggler's friends did get involved on the apron, but I was okay with it. It seemed to follow the same formula of every Ziggler win. At least the World Champion didn't lose another non-title match. The US Champ did, but nobody cares too much about that title anymore.
After the match, Langston dropped Kingston with The Big Ending. Not once. He did it twice.
Analysis: I could see a Kingston vs. Langston US Title feud out of this. Management seems to be high on Langston, so I could see a scenario where he gets the US Title while AJ Lee gets the Divas Title to go along with Ziggler's World Title.
(Commercial)
Backstage, Dolph Ziggler was walking with AJ Lee and Big E Langston. They bumped into Kaitlyn, who was standing with Natalya. Kaitlyn said she won't hold back when she has her match with AJ. A package arrived for Kaitlyn. It was a hat. She read a card saying that somebody loves her and they were looking out for her. Natalya said she had a secret admirer. Kaitlyn was surprised by all of it.
Analysis: I guess it's been a while since the last "secret admirer" angle. JBL said the hat looked terrible. I agree. At least Kaitlyn finally gets a storyline, so that's good for her.
There was a video package about the ongoing feud between Brock Lesnar and Triple H. They have a steel cage match at Extreme Rules.
Backstage, Vickie Guerrero & Brad Maddox were discussing things. Ryback showed up. Ryback said he's not going to face The Shield alone again. Vickie said it won't be a handicap match. It will be The Shield vs. Ryback and Team Hell No. Ryback said no. He didn't trust either of those guys. He said "no" and left. Maddox asked what he meant by no.
Analysis: I really like that the Managing Supervisor of Raw (that's Vickie Guerrero) is in a reduced role these days. They used to feature the authority figure too much. I'm glad that they are merely role players now instead of the focus of major storylines. It's better this way because it puts more focus on the in-ring performers.
(Commercial)
Michael Cole and Jerry Lawler checked on the status of Lawler's pizza. Apparently it's been delivered. They showed some fans at ringside eating it. Heel turn. The announcers all said they loved Domino's Pizza. Of course they did.
Before the Jack Swagger vs. Zack Ryder match we got a brief promo by Zack Ryder celebrating the fact that Zeb Colter lost earlier in the show. Zack doesn't wear merchandise on his way to the ring now. I guess that's a gimmick change for him.
Jack Swagger (w/Zeb Colter) vs. Zack Ryder
Clothesline by Swagger. Ryder hit a facebuster followed by a dropkick. Swagger came back with a powerslam variation for a two count. "Congrats to @TrueKofi to have your first child." That was a fan tweet they showed. Shouldn't they show tweets that use proper grammar? Swagger hit his Swagger Bomb splash twice. He went for a third one, so Ryder got his boots up. Ryder gave Swagger a back body drop over the top rope. Dropkick by Ryder sent Swagger into the security wall. Swagger came back with the Gutwrench Powerbomb. Patriot Lock by Swagger led to the tapout victory for Swagger after three minutes.
Winner: Jack Swagger
Analysis: * It was basically a squash match to put over Swagger since he's in the World Title match at Extreme Rules. The announcers acted surprised every time Ryder hit a move, which shows he really is at that jobber level. When they act surprised or laugh at you you're officially a perennial loser.
Post match, Colter punched Ryder in the face. The crowd booed a bit, but do the fans really care about Ryder after all of the matches he has lost in the last year?
Mark Henry was shown walking backstage with some rope on his shoulder.
(Commercial)
During the commercial break, Matt Striker was trying to interview Ryback. Instead of an interview it looked like Ryback was leaving the arena. He's the heel that walks away. It's not a new gimmick in wrestling.
Mark Henry was in the ring. "I'm Mark Henry - the World's Strongest Man." He said he was there to prove he was the strongest man in the world. He asked for two opponents from Vickie Guerrero. One of the opponents is Tensai.
Tug of War: Mark Henry vs. Tensai
It's not a match. It's a tug of war competition. Henry pulled the rope so that Tensai went over the red line in the middle of the ring. This "thrilling" competition lasted about twenty seconds.
Tug of War: Mark Henry vs. Brodus Clay
Henry won that battle in about ten seconds.
Analysis: We get it. Henry is strong. He's been in WWE for 17 years. It's not like he's some newcomer that WWE is introducing us to.
Sheamus entered the arena. He congratulated Henry on his victories. He challenged Henry to a tug of war challenge. He wondered if Henry was afraid, so Henry told him to get into the ring.
Tug of War: Mark Henry vs. Sheamus
Sheamus had an even battle with Henry early on. With Sheamus' foot right up against the red line, he was able to keep his momentum. Henry tugged hard on the rope, Sheamus let go and Henry fell on his ass. Sheamus hit a Brogue Kick on Henry to end the segment.
Analysis: This feud has been rekindled due to Henry attacking Sheamus randomly backstage a couple of weeks ago. Sheamus got his revenge here with that clever move in the Tug of War challenge and then the Brogue Kick put Henry down for good. This will obviously lead to a match at Extreme Rules. I understand doing something different with the Tug of War idea. It wasn't a great segment, though. It felt flat to me.
The announcers mentioned that it was World Wish Day and did another plug for Wish.org in support of the Make a Wish foundation. We saw a clip of earlier in the show with Cena bringing out three Make a Wish kids onto the stage.
Vickie Guerrero and Brad Maddox had Kane and Daniel Bryan in their office. Kane wanted The Shield in a Handicap match because of what The Shield did to Undertaker on Smackdown. Vickie said they got it. She told Brad there was something he had to do, but we didn't hear it because she whispered it in his ear. They went to break there.
Analysis: The advertised main event was The Shield vs. Ryback & John Cena. Now it's The Shield vs. Daniel Bryan & Kane unless they change that too.
The next edition of TJR Radio is this Tuesday at 10pmET/9pmCT. We'll be joined by former WWE referee Jimmy Korderas (Twitter @JimmyKorderas) for at least the first hour of the show. We'll talk about his 20+ year WWE career, his new book and current happenings in the wrestling business. You can listen live right here or download it after the show. The show will also be available on iTunes on Wednesday morning as well.
(Commercial)
Back from the break, the announcers informed us that The Rock's hernia surgery was a success. Pain & Gain starring The Rock was #1 at the box office as well.
In the locker room, Brad Maddox talked to John Cena. Cena told Maddox that he should go tell Vickie Guerrero that he is teaming with Team Hell No in the main event of Raw. Maddox pointed out that Cena was hurt. Cena didn't care and threatened Maddox, who ended up leaving.
Analysis: That makes our main event match The Shield vs. John Cena, Kane & Daniel Bryan.
For his entrance, Justin Roberts announced Ricardo Rodriguez as the man that beat Zeb Colter earlier in the show. That was a nice touch.
Alberto Del Rio (w/Ricardo Rodriguez) vs. Antonio Cesaro
Apparently Cesaro yodeled on his way to the ring on the WWE App portion of the show. I feel okay knowing that I missed that. Cesaro hit a suplex on Del Rio while the announcers were talking about yodeling for reasons that perplex me. Del Rio hit a hard kick to the arm of Cesaro. Del Rio hit a hurricanrana on Cesaro. Del Rio hit ten shots to the ribs followed by the Back Stabber. His Cross Armbreaker attempt didn't work. Cesaro escaped to the floor to set up the vintage floor to commercial break five minutes into the match.
(Commercial)
Back from break, Cesaro was in control of the action. Cesaro was trending on Twitter probably because of the fans complaining about how poorly he has been booked this year. He hit a suplex. Running uppercut in the corner got two for Cesaro. Chinlock by Cesaro to slow things down. Cesaro hit a back suplex. Del Rio made his comeback with clotheslines followed by his tilt-a-whirl backbreaker. Inside cradle by Cesaro for two. Bridging German suplex by Del Rio for two. I love that move. Del Rio jumped off the top rope only for Cesaro to drop him with a European uppercut. That got a two count for a good nearfall. Cesaro missed a shoulder charge into the corner, so Del Rio got a kick to the face for two. Cesaro countered the Cross Armbreaker with a rollup, but then Del Rio applied the Cross Armbreaker again to win the match via submission after 14 minutes.
Winner: Alberto Del Rio
Analysis: *** I would have liked this match more if Cesaro wasn't one of the most buried superstars in WWE. When I see Cesaro booked this poorly it makes me sad because he's such a great performer. Still, Cesaro was able to get a lot of offense in and he looked credible against the former World Champion. Just like Swagger and Ziggler won earlier in the night, Del Rio got the win here. That's no surprise. The crowd was into it for the most part, so that was a good sign.
The crowd was chanting "ole ole ole" in celebration of Del Rio's win. Del Rio said he gets to pick the stipulation for the World Title match at Extreme Rules. He said it would be a Ladder match.
Analysis: Good choice for a stipulation. Ziggler is pretty much a lock to retain the World Title. There's no reason to take it off of him this early in his reign.
It's official for later on Raw: John Cena, Kane & Daniel Bryan vs. The Shield. Up next is Fandango vs. The Great Khali in a dance off.
(Commercial)
Fandango and his lady friend (Summer Rae of NXT) made their entrance for a dance off. Jerry Lawler was moderating it. The Great Khali and Natalya were already in the ring.
Dance Off: Fandango vs. The Great Khali
Lawler asked Khali some dancing questions. It was hard to understand what Khali said, but he claimed he was better than Chris Jericho. Khali spun around Natalya as they danced together. Please free the wonderfully talented Natalya from this angle. She's the most gifted women's wrestler in the company, yet they waste her talents with crap like this. Fandango wasn't impressed by Chris Jericho on Dancing with the Stars. Lawler actually called her Summer Rae. The Fandango song played as they danced. The crowd hummed along with it.
Lawler asked the fans who won this dance contest. They cheered for Khali & Natalya. There were less cheers for Fandango & Summer Rae. Lawler said that the winner was Great Khali. Fandango attacked Khali after the competition. He clipped him in the knee and then he gave him a Russian legsweep. Top rope leg drop by Fandango. "It's Faaan-daaan-gooo!" JBL said Fandango was awesome.
Analysis: At least Natalya and Summer Rae are gorgeous. That's the best thing I can say about this waste of time. Fandango had a lot of momentum after WrestleMania. This segment didn't really help him.
There was another video of The Undertaker getting attacked by The Shield on Smackdown last week. They already showed this, but it wasn't a long video.
The WWE Champion John Cena made his entrance for the main event. The tag team champions Team Hell No made their entrance.
(Commercial)
This Friday on Smackdown it's Kane vs. Dean Ambrose. Last week on Smackdown it was Undertaker vs. Ambrose, so it's a case of Kane getting revenge for his brother.
Lawler said we didn't know where The Shield would be coming from. Actually we do. It was from the same part of the arena that they always come from.
The Shield (Dean Ambrose, Roman Reigns & Seth Rollins) vs. John Cena, Kane & Daniel Bryan
Kane with a delayed suplex on Ambrose. The heels tried to isolate Kane, but that didn't work as he drove Rollins back into his corner. Cena tagged in briefly, hit a kick on Ambrose and sold the right foot injury that he has. Bryan quickly tagged in for his team. Lots of quick tags for the babyface team, which is not what you normally see in a tag match. Surfboard by Bryan, who brought Kane back in. Kane with a seated dropkick. Ambrose avoided the Kane top rope clothesline, which is what every Kane opponent should do. Double suplex on Kane. They went to commercial with The Shield in control of Kane in their corner.
(Commercial)
Back from break, the heels were isolating Daniel Bryan in their corner. Ambrose with an elbow to Bryan. Bryan tried to fight out of a Rollins attack, but he fell victim to a kick to the back of the head by Rollins. Samoan Drop by Reigns on Bryan. Bryan was able to break free of Reigns, which led to Kane tagging in for his team. Clothesline on Ambrose followed by the sidewalk slam. Kane threw Rollins over the top to the floor. Top rope clothesline by Kane on Ambrose. Kane threw Ambrose over the top to the floor by the announce table. Kane cleared the monitors off the announce table. The heels used the numbers game to come back with Ambrose hitting a DDT on Kane outside the ring. Kane rolled back into the ring before the ten count. Ambrose did the throat slash. Bad move. Chokeslam by Kane, who tagged in Cena. Cena hit the shoulder tackles on Reigns followed by the spinning suplex. Five Knuckle Shuffle by Cena. Rollins off the top rope, Cena caught him and he went for the FU, but he collapsed due to his right foot injury. Reigns hit a Spear on Cena. Reigns covered for the 3 count, winning for his team after 14 minutes.
Winners: The Shield
Analysis: *** It wasn't as good as some of the other Shield matches, but it followed the formula of their matches well. They always find a way to outsmart the other guys and take advantage of the numbers game. I would have liked it if we saw how Bryan was taken out of the occasion. The camera didn't catch it as far as I could tell. Cena actually did a good job of selling the foot injury when he collapsed with Rollins on his shoulders. Reigns hits a perfect looking Spear too. I love that move when he does it.
Post match, Ryback showed up on the entrance ramp. The Shield left. A doctor went into the ring to check on Cena's foot injury. That's where Raw ended.
Analysis: It would have been nice to see Ryback attack Cena's foot to end the show. It would have got him heel heat. Staredowns are boring. We get too many of them. A cheap attack would have been more interesting.
Three Stars of the Show
1. Randy Orton
2. Cody Rhodes
3. Dolph Ziggler
Also want to mention the three Make-A-Wish kids that were on. That was a touching moment.
The Scoreboard
6 out of 10
Last week: 7
2013 Average: 5.62
2013 High: 8 (April 8)
2013 Low: 3.5 (January 28)
Last 5 Weeks: 7, 5.5, 8, 6, 5.5
Final Thoughts
This show was the perfect example of the highs and lows of WWE these days.
The high point of the show was that they had four matches receiving over 12 minutes or more of in-ring time. That makes me happy. I wish it was like that every week. None of the matches stood out from the pack, but they were all entertaining to me.
The low points of the show involved time filling segments like the dance off and the tug of war competition. At least there wasn't a pose down. The divas match was also bad too.
In terms of promos none of them really stood out. With no Lesnar or Triple H on the show they didn't further that storyline aside from a video package summarizing everything that happened in the last few weeks.
In other news, I'm glad that Summer Rae appears to be a regular as the dancer for Fandango. She's absolutely gorgeous.
Lastly, I miss CM Punk. A lot.
-----------------
We'll bring it home with some plugs.
I write exclusive columns for the website of WWE announcers Michael Cole & John Bradshaw Layfield. You can check out my column from Friday at LayfieldReport.com right now. It's about the trio of Dolph Ziggler, Big E Langston & AJ Lee.
The next edition of TJR Radio is this Tuesday at 10pmET/9pmCT. We'll be joined by former WWE referee Jimmy Korderas (Twitter @JimmyKorderas) for at least the first hour of the show. We'll talk about his 20+ year WWE career, his new book and current happenings in the wrestling business. You can listen live right here or download it after the show. The show will also be available on iTunes on Wednesday morning as well.
Please visit TJRWrestling.com every day for weekday Headlines and plenty of opinions shared by our talented team of columnists.
Until next time, thanks for reading.
John Canton - [email protected]
TJRWrestling.com and TJRSports.com
Twitter @johnreport
Personal Facebook and TJRWrestling.com on Facebook