[Previous Article]
-
[Next Article]
-
[Contact Author]
- Triple H noted on Twitter that he will be at tonight's WWE RAW.
- John Cena tweeted the following about tonight's RAW:
"It's Monday! @WWE @twitter @twitter_es @YouTube ill see you guys 2nite on #Raw not 100% but feeling GR8! #RTimeIsNow"
- WWE Hall of Famer "Stone Cold" Steve Austin tweeted the following picture of his new gun scope at Sunday's NRA Convention in Houston, Texas:
"Just got back from Houston. @MeoptaUSA #bsrscope went great. Thanks @MeoptaUSA. And thanks to folks who came by."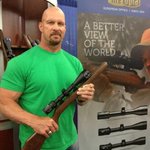 * EXCLUSIVE NEWS: Steve Austin's Rocky Relationship With WWE