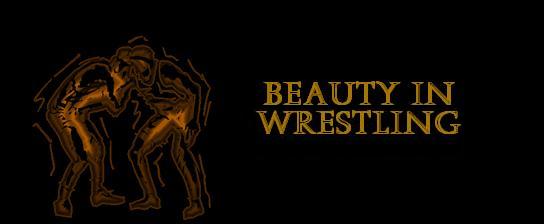 MR. THOMAS' WILD RIDE - PART THREE

Welcome to the third part of the Beauty in Wrestling feature that is, more or less, a travel log of all the wrestling shows that I attend. Bear in mind these are not show reviews. More of a series of fun little essays about meeting wrestling fans outside of my hometown. I have visited Ring of Honor and Jersey All-Pro Wrestling earlier this year with mixed results. JAPW was beyond awful, but ROH has rarely disappointed me. Last month, I had a seat for their March show, but sadly, my terrible view and some obnoxious fans ruined the event for me. From standing in line listening to two doorknobs droning on about Tammy Sytch's adult video to hearing people jeer a veteran like Jerry Lynn. I swear, every time I visit New Jersey, I drive home with a grudge against the entire state.
So, I decided for a change of pace. I bought myself a front row seat for Zero-One's international promotion, World-1. Zero-One is a Japanese wrestling company that features some of the best stars from Japan and some top gaijins from the western hemisphere. World-1 is what they call the company while touring outside of Japan. Still with me? Good. World-1 promised three nights of wrestling action on April 8th, 9th, and 10th, so I decided on the final show thinking they would save the best for last. A quick trip to Essington, Pennsylvania later, and I was at the prestigious Ramada Inn ballroom, known throughout the wrestling world as the Madison Square Garden of eastern PA. Is that sarcasm being detected? Nahh. And, we're moving...
I arrived early. Approximately three hours early. A botched trip to ECWA's Super 8 tournament a week ago lingered in my mind, so I figured I'd leave far in advance in case there were any further driving mishaps. I passed the time reading "A Stitch in Time" by Andrew J. Robinson. While I waited, a large truck or van parked next to me. Someone carrying a bag with a PWInsider.com logo walked out. I was tempted to tell the person I also worked for a wrestling website, but I guess I chickened out. Finally, I could take no more waiting in my car. Into the fabulous Ramada Inn.
The lobby was filled with eager wrestling fans. I had a brief conversation with one about Maryland's wrestling scene or lack thereof. I leaned against the wall and took off my glasses to clean them. Just as I did, CM Punk, easily one of my top 10 favorite wrestlers, walked by me. With my vision temporarilly impaired, I hadn't realized it was him until someone in the crowd yelled "Punk!" at the ROH star. I turned quickly but he was gone. I came to Essington specifically to see Punk wrestle. Also, I was planning to thank him for sticking with Ring of Honor after the recent trouble with NWA-TNA. It seems NWA has pulled all of "their" wresters from ROH shows because of some legal hoo-ha that I won't bother trying to decipher. Practically everyone under NWA contract (AJ Styles, Christopher Daniels, Chris Sabin, etc.) was pulled, but Punk is very much a part of ROH and is staying in the promotion that helped catapault his career. I missed my opportunity to tell him, but I think he knows how much we appreciate it.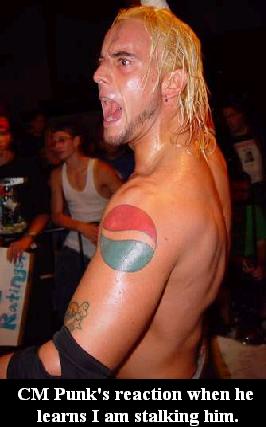 I picked up my reserved ticket and made my way into the ballroom. It was the most classy wrestling "arena" I had ever seen. There was a beautiful chandalier and the seats were not the standard steel folding chairs. No way. Comfortable dining hall chairs. Seriously. What was even more unique was there was no barricade between us and the ring. So, when the wrestlers fell out onto the floor over the course of the evening, they were practically right on top of us.
Match one: Christopher Street Connection vs. Guillotine LeGrande and Mana. CSC's gimmick is that they are a swishy and flirtatious gay tag team duo. They came out to the Village People's "YMCA" much to the delight of a few fans who did the hand symbols. They were in the back row, though. People in the back row can get away with looking silly because nobody is looking at them. The match wasn't so much a match as it was a comedy sketch. CSC put a feather boa and pink hat on Mana, a massive (I'm guessing Samoan) man who grunts a lot. The contrast was hilarious. The fans were all over the medicore Guillotine LeGrande. They hated him with a passion. Even when his team won, someone screamed "You still suck!"
Match two: Well...I'll be honest. I didn't catch their names. It was an unadvertised match, and frankly, it was very, very bad. Heavily booed and definately the worst of the night. I won't bother with it.
Match three: CW Anderson, Simon Diamond, and Justin Credible vs. Ricky Landell, Alex Law, and Greg Spitz. The first team was a stable in the now non-existent Major League Wrestling promotion. A take on the old Four Horsemen called the Extreme Horsemen, led by Steve Corino. Even though they were a heel faction, the fans were solidly behind them against three wrestlers who could easily be referred to as Vanilla Coke. Just bland and unsatisfying. Anderson won the match with a Spinebuster.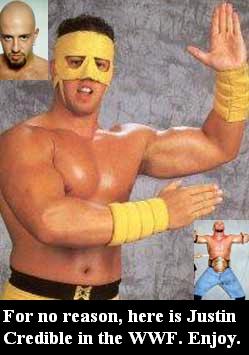 Match four: Rockin' Rebel and Jack Victory vs. Jose Maximo and Joel Maximo. For some reason, the Maximos don't go by their more common name, Spanish Announce Team, in every promotion. Frankly, the independent scene is filled with some really bad tag teams. I've had the misfortune of seeing the Dirty Rotten Scoundrels, The Solution, and many more. The Maximos are just barely above them. They fly high, but to be brutally honest, they are sloppy and at least one of them is out of shape. The match provided some laughs, though. Jack Victory's facial expressions and non-sensical ramblings provided some entertainment. Some fans wanted Victory to get tagged in, but he responded to the crowd "Nah, I have no offense."
Match five: Matt Striker vs. Kohei Sato. In a bizarre coincidence, there are actually two Matt Stry/ikers on the indy shows. One is a unibrow-sporting mat wrestler named Matt Stryker, and the other is the man I saw last night, Matt Striker. Odd, eh? Kohei Sato is one of Zero-One's local stars. Pretty tall for a Japanese man. Pretty tall period, actually. Striker worked Sato's knee throughout much of the match. Striker won when he put his legs on the ropes and pinned Sato for the screwy win.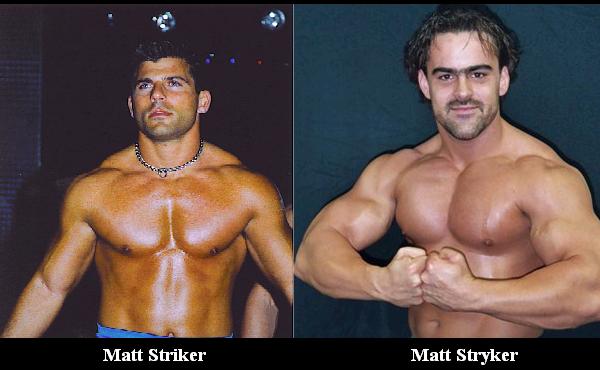 I'll take this brief pause from the match to talk about the most outspoken fan in attendence that night. No, not that thirty-something bald man in the front row who I see at virtually every indy show. Not the YMCA folks in the back. I'm talking about an eight-year-old kid with apparentley no supervision. He kept screaming and screaming for his wrestler of choice each match. In this case, Matt Striker. When fans on the other side of the ballroom would chant for Sato, the kid would tell them to shut up and that they were getting on his nerves. What could they do? He's a kid. They kept chanting, though. The kid went nuts.
Match six: Josh Daniels vs. Homicide. My favorite match of the night. Great mat wrestling, strong style brawling, and a little bit of flying. Homicide flew through the second and third ropes to the outside to crash into Daniels. As he made his way between the ropes, he spun his body around quickly for a plancha. The resulting collision spilled into the seats. A few fans got out of the way when they realized what was about to happen, but a couple were caught. Josh Daniels picked up the win. They shook hands after the match.
I can't recall which of the next two matches happened first. My poor memory is shot. Low Ki and Spanky vs. Ikuto Hidaka and Minoru Fujita. Good match. Someone kept calling Spanky "Mr. Velocity." Ouch. Low Ki and Spanky picked up the win, if I recall correctly. Dustin Rhodes (unfortunately called Dusty Rhodes Jr. in the match) vs. Steve Corino was fun but not so much for the match but for Corino's heel work. He seemed to have a comeback for every remark thrown his way. A couple of short-haired women sitting next to me said something about the design on Corino's tights looking like a target. Corino looked at the couple who looked like two stereotypical lesbians and said "I'm surprised you're looking at [i]my[/i] ass, if you know what I mean." That Corino. What a kidder.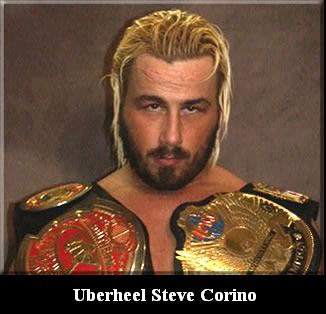 The main event was CM Punk vs. Masato Tanaka for the World-1 Championship. As CM Punk came out, the bald-headed fan who attends every indy show was yelling in his face. Punk just walked by him and put up his hand in the fan's face. Talk to it, baldy. Punk wore a Ring of Honor t-shirt and made certain to point to it showing his loyalty to the promotion. Tanaka retained his title in what was a disappointingly short match. I came all this way to see Punk, and I don't think he was given even twelve minutes with Tanaka. With the time he had, he put on a good show. He always does. I just wanted more.
Thus ended another road trip and another part of this year's Wild Ride. I'll be back next month as I will be on the road for at least one Ring of Honor event. Possibly more, depending on how much spare change is in my sofa. Be good to each other. Bye for now.
-------------------------
Contact Leon Thomas with questions, comments, and free wrestling tickets (come on, you know you want to) at Trophar@Lycos.com
The Beauty in Wrestling archives will be updated soon. I promise. I've just been busy. Check it out at BeautyinWrestling.Freeservers.com