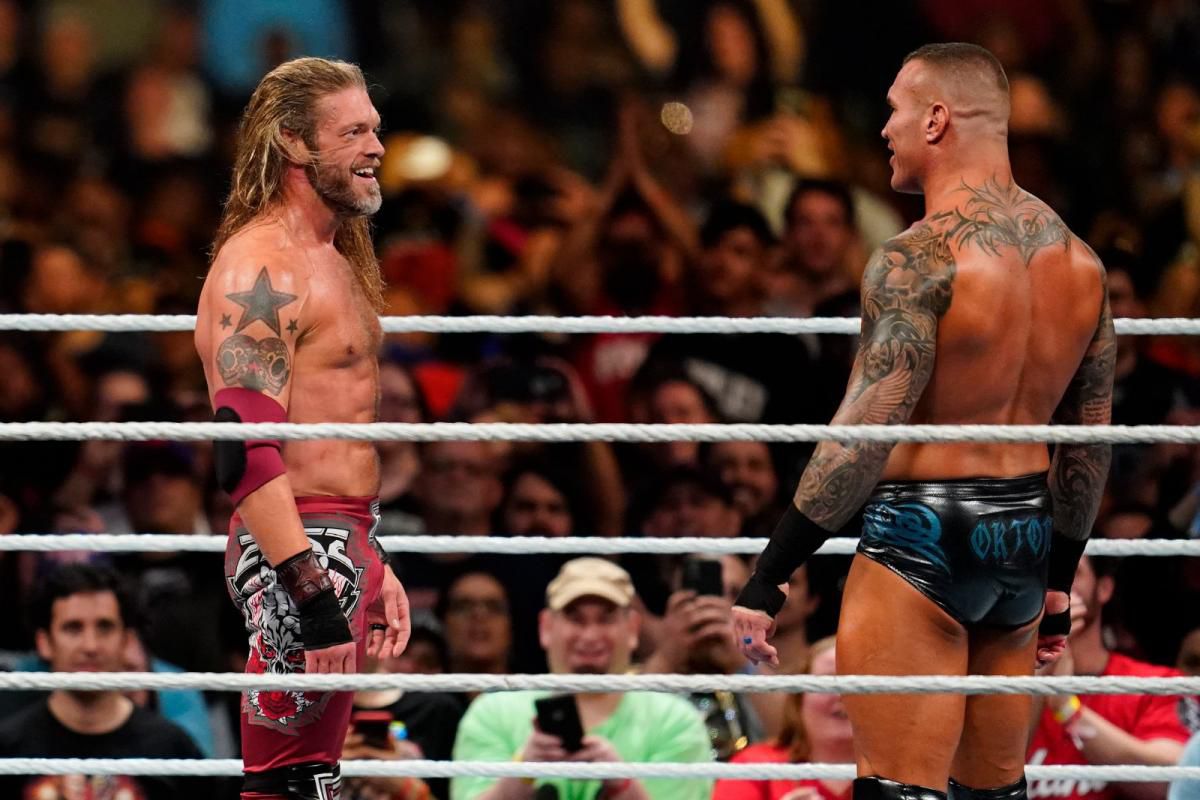 WrestleMania predictions in their most unique form, just like this WrestleMania itself!
WrestleMania is upon us, and soon the time for talking will be over. The event has been moved, scrutinized, and analyzed more than any other, but we're here. In the meantime, let's do just a little more! In this feature, we take a look at each match from two very important angles: Who should win? And who will win?
SHOULD and WIN are the two most important words in this equation. WrestleMania sets the table for the wrestling year. "Should" means WWE got it right, at least in my opinion. "Will" is what the company is most likely to do, based on prior precedent and forward looking projections.
Note: If you're new to me, you will discover this is an acquired taste. I am purely authentic in my opinions, and I don't try to be purposely controversial or contrarian. I call it like I see it. I bring over 13 years of experience to the table, including experience in the business that continues today. Love 'em or hate 'em, my takes from a good place.
There are 16 matches on this WrestleMania card, carrying varying amounts of importance. You'll get picks for each--but that level of analysis will vary. You'll get it for each match, but you'll get more where it counts.
Now then, let's have at it!
WWE Championship: Drew McIntyre vs. Brock Lesnar (c)
Who Should Win: Drew McIntyre
Who Will Win: Drew McIntyre
If Drew McIntyre doesn't win the 2020 Royal Rumble, this could look different. But the math here is simple. You don't have Drew McIntyre eliminate Brock Lesnar AND win the Royal Rumble match (last eliminating Roman Reigns of all people) if you don't plan to see this through. Having Drew lose would kill any momentum he has, and he has a ton.
NXT Women's Championship: Charlotte Flair vs. Rhea Ripley (c)
Who Should Win: Rhea Ripley
Who Will Win: Charlotte Flair
Rhea Ripley is young, exciting, and ready for her spotlight. She's a fantastic NXT Champion, but that reign is just getting started. She's got "the future" written all over her. Charlotte Flair, on the other hand, is a verified legend already. Ripley walking out with the championship is a great idea, but that's not where the money is. The money is in Charlotte winning the championship, flaunting it on both Raw and NXT, and WWE building to a rematch where Rhea wins it back. LOLCHARLOTTEWINS
Last Man Standing - Edge vs. Randy Orton
Who Should Win: Edge
Who Will Win: Edge
You don't bring Edge back after 9 years just to have him lose his return match. If this was against someone who needed the rub, I might look at it differently. This is one match that changes a little for me since it's not in front of 75,000 fans in a football stadium. But Randy Orton loses nothing in a loss, and I don't see money in Edge doubting himself and working his way back up.
Universal Championship - Braun Strowman vs. Goldberg (c)
Who Should Win: Braun Strowman
Who Will Win: Braun Strowman
The feeling online seems to be that if with Roman Reigns out of this match, the win has to go to Goldberg with a rematch to come after we get out of the Coronavirus. And I just don't see it. Money talks (yet again), and getting Goldberg to this point likely cost WWE a ton. They're already losing their asses on this WrestleMania, they're not going to get held up for more money by 53-year old Bill Goldberg. This one is all Strowman.
Raw Women's Championship - Shayna Baszler (c) vs. Becky Lynch
Who Should Win: Shayna Baszler
Who Will Win: Shayna Baszler
I wish Shayna Baszler had won the Royal Rumble, but then we couldn't build Charlotte Flair vs. Rhea Ripley. Instead Shayna eliminates just as many people as Bianca Belair, and then eliminated every opponent possible in the Elimination Chamber. Becky is supposedly going away for a break, and in all honesty she needs it. I'm sure she needs it physically, but she her character also needs it. Shayna is the obvious "should" in this case, but I think she's also the obvious "will."
Firefly Fun House Match - Bray Wyatt / The Fiend vs. John Cena
Who Should Win: Bray Wyatt / The Fiend
Who Will Win: Bray Wyatt / The Fiend
This might be the easiest match of the 16 to pick! Why in the world would you have John Cena win a Firefly Fun House match against Bray Wyatt and The Fiend? This is going to be a fantastic spectacle, but there's only one way it can, and will, go. Side note, no match on the card benefited more from the move to a closed set than this one.
Boneyard Match - The Undertaker vs. AJ Styles
Who Should Win: The Undertaker
Who Will Win: The Undertaker
If the Firefly Fun House Match benefited the most from the shift to a closed set, no match on the card was hurt more than this one. Specifically AJ Styles. If this is in front of 75,000 fans at Raymond James Stadium, my should is AJ Styles. But I don't see a reason for AJ Styles to win a match in a graveyard against The Undertaker. Short of burying the Deadman gimmick for good (no way in hell The Undertaker is retiring like this) and bringing back the American Bad Ass Biker Taker, it just doesn't make sense. This is the Deadman's to win.
Intercontinental Championship - Daniel Bryan vs. Sami Zayn (c)
Who Should Win: Daniel Bryan
Who Will Win: Daniel Bryan
I am a big Sami Zayn fan, even if he's the least talented of the three people in his makeshift faction. That's saying a ton, because Sami Zayn is damn good. But Daniel Bryan loves the Intercontinental Championship, and the last time he held it his reign was cut short. He corrected the red in his ledger with the world title, now he's going to do it with the Intercontinental Championship. Plus, I don't know how many more WrestleManias Daniel Bryan has left. No reason he loses this match regardless of environment.
Kevin Owens vs. Seth Rollins
Who Should Win: Kevin Owens
Who Will Win: Kevin Owens
Kevin Owens was left off of the card last year. He was healthy, but Kofi Kingston was THE GUY for WrestleMania 35, and Owens was the collateral damage. He has a ton of momentum now, and losing here would hurt that. I can see Seth Rollins taking a break--and now isn't the best time for it character-wise--with Becky Lynch. It does make a little sense since everyone in the Monday Night Messiah's stable is hurt right now.
WWE Women's Tag Team Championship - The Kabuki Warriors (Asuka & Kairi Sane (c)) vs. Nikki Cross & Alexa Bliss
Who Should Win: Kabuki Warriors
Who Will Win: Nikki Cross & Alexa Bliss
When we did picks on Chairshot Radio, I went with the Kabuki Warriors as my should and will win. But now I really see the company giving Alexa Bliss and Nikki Cross the win. I am more shocked that they're still a team, but they are. Asuka and Kairi still have a ton they can do, and maybe they'll win them back. But I can't shake the feeling that BlissCross is taking the win here.
Smackdown Women's Championship - Lacey Evans vs. Naomi vs. Sasha Banks vs. Tamina vs. Bayley (c)
Who Should Win: Bayley
Who Will Win: Bayley
Now isn't the time to split up Sasha Banks and Bayley, but I could see a random Lacey Evans win happening here. That said, I am sticking with Karen to retain as my should and will.
Ladder Match for the Smackdown Tag Team Championship - The Miz & John Morrison (c) vs. The Usos (Jimmy & Jey) vs. The New Day (Kofi Kingston & Big E)
Who Should Win: Miz & Morrison
Who Will Win: The Usos
I am really intrigued as we're supposedly getting Morrison vs. an Uso in a ladder match since The Miz was sick, but where does that leave The New Day? There's a ton of entertainment they can provide in any capacity, even if it's not a match. And I can see them out by choice. If this went down as announced, I would say Miz & Morrison. But it's such a wildcard that I have to go with The Usos as a "safe bet."
Elias vs. King Baron Corbin
Who Should Win: King Baron Corbin
Who Will Win: King Baron Corbin
Elias seems like the obvious choice, no? Braun Strowman needs an early challenger, and Corbin makes the most sense. I don't see the heel losing out here.
Otis vs. Dolph Ziggler
Who Should Win: Dolph Ziggler
Who Will Win: Dolph Ziggler
There's no way Vince McMahon would have Dolph Ziggler lose this match. He's a two-time world champion, and Otis is a comedy tag team guy.
Aleister Black vs. Bobby Lashley
Who Should Win: Aleister Black
Who Will Win: Aleister Black
Rumors have it that Bobby Lashley was also sick, meaning this will get changed. I think Black was winning no matter what, though.
Raw Tag Team Championship - The Street Profits (Montez Ford & Angelo Dawkins (c)) vs. Angel Garza & Austin Theory
Who Should Win: Street Profits
Who Will Win: Street Profits
It makes no sense to have the Street Profits lose here, even against future WrestleMania main eventer Austin Theory.
WrestleMania, in it's strangest form ever, is here! Drop a comment or hit me up on social media @ChairshotGreg and let me know what you see happening. 
Greg DeMarco is a life-long wrestling fan who has been providing analysis and perspective online since 2010. He's also worked for various wrestling promotions including the NWA and Ring Of Honor, and currently promotes IZW Wrestling in Arizona.
Links:
* Twitter - https://twitter.com/ChairshotGreg
* Facebook - https://facebook.com/ChairshotGreg
* Instagram - https://instagram.com/ChairshotGreg
* Free Email Newsletter - https://gregdemarco.substack.com