- John Cena tweeted the following injury update over the weekend:
"Beaumont TX! @WWE is here! @twitter #heel feels better everyday. Looking forward to a great night 2nite! #thechampishere #RTimeIsNow"
- WWE COO tweeted the following about a new WWE DVD:
"Interviewing for my new DVD. This will be unlike any of my previous ones"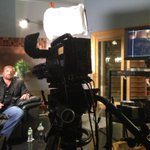 * Mind-Boggling Pictures of AJ LEE Doing a Standing Split - She Is VERY Flexible!