Welcome to the TJR review of the second AEW Double or Nothing event. It's almost the one year anniversary of the first official AEW show and I've enjoyed the journey so far. The last PPV called Revolution was on February 29, so that was a few weeks before the ongoing health crisis took over the world. It's the third PPV since AEW started their Dynamite TV show in early October 2019.  I review every episode of Dynamtie on my site TJRWrestling. The reason I don't post it on here as well is because I want some of my writing to be exclusive to my site and Rajah understands that too. I figured I would post this here as well since it's a PPV show, so let's get to it.
There was one match on the Buy-In Pre-Show. Best Friends beat Private Party in a tag team match to earn a future AEW Tag Team Title match.
AEW Double or Nothing
May 23, 2020
Daily's Place in Jacksonville, Florida
There was a video package where they thanked first responders for the work they have done in dealing with the ongoing health crisis. They also had a graphic paying tribute to Shad Gaspard, who passed away earlier this week. That was very nice of them. The opening video also promoted the matches on the show.
The show began with a casino theme on the set. They showed some wrestlers standing around ringside as part of the crowd and among the people there was Vickie Guerrero also. The announce team of Jim Ross, Tony Schiavone and Excalibur welcomed us to the show.
Casino Ladder Match
The winner of this nine-man Ladder Match has to retrieve a casino chip above the ring. The man that gets the ring will earn an AEW World Title shot. You can try to win the match before the nine-men are in the ring.
Frankie Kazarian and Scorpio Sky are up first as the two SCU members in the match. There's a clock counting down from 2:00 for the next entrant. Kazarian and Sky each went for moves, but did some sweet counters leading to neither guy getting the advantage. They did a spot where Kazarian ran the ropes leading to a collision spot where they ran into eachother. They basically didn't do much in their two minutes. Kip Sabian was the #3 man in the match with Penelope Ford joining him. Jimmy Havoc had a blood-stained suit and he attacked Sky and Kazarian with a ladder. Havoc is not in the match, but he's an ally of Sabian, so the cheating was allowed in a match with no DQ's like this. Kazarian blocked Havoc's attempt at a move out of the corner and Kazarian gave Havoc a German Suplex onto a ladder. Sabian set up Sky on the steel steps and was going to attack, but Kazarian tried a ladder climb, so Sabian went into the ring. Kazarian nearly got the casino chip, but Sabian pulled him down and kneed him in the face. Sky knocked down Sabian.
It's Darby Allin at #4 as one of the most popular guys in the match. Allin hit a suicide dive on Sabian and Havoc on the floor. Allin took out Sky on the floor and hit a flipping Stunner on Kazarian. Allin set up some ladders on the floor, then he threw a skateboard at Kazarian. Allin climbed to the top of a huge ladder and dove off with a skateboard, but Kazarian moved, so Allin bumped onto his feet through the ladder. The man in the jean jacket and jeans is next as Orange Cassidy is #5 with a slow entrance towards the ring. Cassidy asked the announcers what he had to do, so they explained it and he hated it because he's lazy. Cassidy took about 45 seconds to get into the ring when nobody was in there. Cassidy avoided charging attacks from three wrestlers that took comedy bumps to the floor. Cassidy was too lazy to set up a ladder properly and that took up his two minutes. Colt Cabana is #6 as Cassidy still couldn't figure out what to do. Some wrestlers chanted "help him Colt" and instead Colt shoved Cassidy out of the ring. Cabana climbed up, Sabian pulled him down and SCU shoved the ladder over when Cabana was on it, so Colt bumped into the turnbuckle. SCU took down Sabian too. Cassidy did his low kick comedy routine, then he avoided a clothesline and hit a dropkick with the hands in the pockets. Cassidy hit a suicide dive on the two SCU guys on the floor.
The #7 entrant was Joey Janela, who replaced Fenix because Fenix was injured. Janela ran down to ringside and hit running dives on multiple guys. Janela went into the ring with a missile dropkick on Cabana. Janela climbed the ladder, but Kazarian threw him out of the ring. Janela brought in a chair and hit Kazarian in the lower back with the chair. Sky grabbed the chair and hit Janela in the back with it. Sky was sent out of the ring and Sabian went back in with a jumping DDT on Kazarian. The #8 man in the match is Luchasaurus, so they are saving the mystery guy for the last spot. Luchasaurus went into the ring with moves on everybody in the ring including a spinning knee strike on Sky. Luchasaurus gave Sabian a Powerbomb onto five wrestlers on the floor. Luchasaurus with a kick to the back of Kazarian and Luchasaurus gave Frankie a Chokeslam onto a ladder and a Chokeslam in the ring. Allin was back in the match looking fine yet Tony said maybe he has a broken leg. Allin hit a sunset flip powerbomb on Luchasaurus off the turnbuckle. The #9 entrant is the mystery entrant and it is Brian Cage with Tazz walking out with him as a manager. Cage is a huge guy that was dealing with an injury, but was always expected to sign with AEW. Cage cleared house right away with a German Suplex on Sky and Cage hit a suplex on Janela from the apron into the ring. Cage continued his dominance with a slam on Kazarian as well.
Cage climbed the ladder, Cassidy was on his back and other wrestlers managed to pull them down. Kazarian and others used the ladder to knock Cage out of the ring. Cage was sent into the ring post. The wrestlers piled ladders and a piece of the barricade onto Cage. They got a big Double or Nothing casino and five guys dumped it onto the pile that was covering Cage. Back in the ring, Sabian hit a missile dropkick on Cabana. Sky ran the ropes, but Sabian sent him out of the ring and then Sabian did a Coast to Coast dropkick on Cabana where he kicked a ladder into Cabana. Sabian climbed a ladder as Kazarian hit him with another ladder. Cassidy hit a rising elbow strike on Kazarian. Cassidy and Sabian fought near the top of the ladder with Penelope out to support Sabian, but Cassidy punched Sabian onto another ladder. Penelope went into the ring and Penelope bumped onto Sabian. Jimmy Havoc went after Cassidy again, but then Trent and Chuck Taylor took Havoc out, so they saved their buddy Cassidy. Luchasaurus picked up Cassidy, then Cassidy fought out of that and Cassidy teased a Chokeslam of his own. Marko Stunt went into the ring with a fun sized ladder for a double team Chokeslam on Cassidy. Stunt hit a dive on other wrestlers on the floor. Kazarian went for a diving spot on Luchasaurus, but they messed up what they were trying and both guys went down. Janela hit a Death Valley Driver off the apron on Cassidy onto Cage on the floor. Sky was back in the ring with a TKO neckbreaker on Janela. Kazarian jumped on the ladder to battle with his buddy Sky and Luchasaurus shoved them off the ladder into the ropes. Cabana was kicked off the ropes by Luchasaurus. Somebody must have told Cage that was his cue because Cage got back up from the pile. Cage went into the ring to exchange strikes with Luchasaurus, who hit some nice kicks but Cage came back with a rising knee. Cage gave Luchasaurus a Powerbomb onto the ladder against the turnbuckle. Cage set up a ladder, but then Allin slid back in the ring with another ladder and he slapped Cage in the face, so Cage hit Allin with a clothesline. Cage hit a Drillclaw piledriver on Allin. Tazz was back on the ramp to encourage Cage against Allin, who refused Tazz's advice in the past. Cage press slammed Allin on a ladder above his head and Cage tossed Allin out of the ring along with the ladder. I guess all the other wrestlers were down at this point, so Cage climbed the ladder and grabbed the casino chip above the ring. The match went 28:30.
Winner: Brian Cage
Analysis: *** The match was pretty good, but I felt like they went too long. They really didn't need to go 30 minutes because it dragged on. I kept waiting for it to end, but then it kept going. I was impressed by some of the spots in the match by Darby Allin while Kip Sabian also had some cool moments in there. Frankie Kazarian and Scorpio Sky were smart choices to start the match because they are veteran workers that can mesh well with anybody. This was an effective way of booking Cage's AEW debut by having him win a match that will give him a title shot in the future. If I knew Cage was in the match I would have picked him because I'm not surprised by AEW would book him in a major way as soon as he was in his first match.
Post match, Cage celebrated with the casino chip and Tazz was by his side. The win means that Cage gets a future AEW World Title shot.
Analysis: On the AEW post-show media call, Tony Khan said that Cage will get the title shot against Jon Moxley at their next Fyter Fest show. No date has been announced yet, but we should know more on Wednesday's Dynamite show.
A commercial aired for AEW Dynamite on Wednesday night.
The announcers ran down the matches coming up later. I don't think this is necessary when we have already ordered the show, but it's probably done that way because they need to clear the ringside area. A backstage interview would have been better in that spot.
Maxwell Jacob Friedman entered with Wardlow and he's 7-0 in AEW this year with Excalibur noting that MJF hasn't been beaten in a singles match in AEW so far. Jungle Boy is 7-5 in 2020.
Maxwell Jacob Friedman (w/Wardlow) vs. Jungle Boy
The announcers put over how young they were both were in their early 20s (MJF is 24 and Jungle Boy is 22). It was even early on with shoulder tackles by each guy leading to MJF bailing to the floor. They did a spot where they were holding their hands, then they locked their legs up and it turned it into a slugfest after that. Boy with chops to the chest, then MJF did a floatover over Boy, who was coming out of the corner and MJF went down to the mat favoring his right knee. The AEW doctor Dr. Sampson checked on him and then MJF popped back up for a cheap attack on Boy. Tony: "What an ass." Well yeah, that's what heels do. Boy came back with a cross body block off the middle ropes, but then MJF came back with a running elbow to the face. MJF hit a backbreaker for a two count. MJF grabbed the arm of Boy and whipped him into the turnbuckle for two. MJF wrenched the arm with a knee drop. MJF called Boy a nobody compared to him, then he told him what to do next and Boy came back with strikes followed by a clothesline after bouncing off the ropes. Boy worked over MJF with repeated chops to the chest followed by a rolling double axe to the chest. MJF dumped Boy out of the ring, then MJF slid out to the floor and slapped him in the face. MJF talked to the guys behind the barricade, so Boy hit two suicide dives and a somersault dive over the top.
Back in the ring, Boy jumped off the middle ropes into a DDT for a two count. Boy was selling a left arm injury after MJF worked on it earlier in the match. Boy charged into a back elbow by MJF, who followed up with a double foot stomp on the left arm. The match reset as they exchanged hard chops to the chest. Both men had red chests after that exchange. MJF ended that with a hard slap to the left arm, but then Boy had more chops. MJF with a shot to the throat, then off the ropes and Boy with a superkick, MJF with a forearm and MJF hit a Destroyer and MJF hit a clothesline into pin for two. Boy held onto an armbar, but MJF got out of that. MJF picked up Boy into a spinning slam into a pin for a two count. They battled on the apron with boy hitting a superkick and a reverse rana onto the ring apron. The referee Aubrey Edwards checked on MJF while also giving him a time cue most likely. Boy used his right arm to get MJF into the ring while doing a nice job of selling the left arm. Back in the ring, MJF grabbed the referee's leg and she hit the ropes to knock down Boy on the top rope. MJF slapped the left arm repeatedly, Boy with a headbutt and boy hit a sitout Powerbomb off the middle ropes for a two count. That was a nice nearfall spot. MJF tried some moves, but he was selling a back injury and they each got nearfalls after that. MJF elbowed the left arm of Boy and then Boy got a rollup for two. They each got rollups for two, then MJF managed to get another pinfall where he sat on top and that was enough to keep Jungle Boy down by holding the hands. The match went 17:20.
Winner by pinfall: MJF
Analysis: ***3/4 This was a very good technical wrestling match by two young guys that have bright futures in AEW. I think it would have been better if AEW did more things to cheat and act like the heel because he wasn't heelish enough. I was really impressed by Jungle Boy's selling throughout the match. The left arm was the big story, but just in general he's really good at selling. The finish was done to show that it was an even match with Jungle Boy nearly winning several times, but then MJF found a way to get it done.
Post match, MJF looked into the camera saying he was the future of this company. The replay showed the great technique that MJF used.
A video package aired to set up Cody vs. Lance Archer for the TNT Championship.
The legendary boxer Mike Tyson made his entrance with the TNT Championship in his hands because Tyson is there to present the new title to the winner. The title looks okay, but it's not really impressive at all. Lance Archer entered with Jake "The Snake" Roberts as his manager. Cody (Rhodes) was joined by his coach Arn Anderson. The wrestlers stood in the ring as Dasha Gonzalez did the championship introductions. The referee Bryce Remsburg gave them the chance to shake hands, but they did not. It was noted by Tony that the title was not complete due to the belt makers having to stop due to the health crisis. That's why the title isn't that impressive right now.
TNT Championship: Cody vs. Lance Archer
Archer got a hold of Cody and hit the Blackout to start the match, but Cody managed to roll out of the ring. Back in the ring, Cody slapped on an armbar and Archer got out of that. Cody with some forearms, Archer no sold them, Archer with a forearm, Cody with an uppercut, Cody went off the ropes and then Archer hit a running shoulder block to the back to knock Cody out of the ring. Cody went back into the ring as Archer pulled off some of the mat at ringside, but then Cody hit a suicide dive on him. Archer grabbed Cody on top of a railing around the ring and slammed Cody onto the mat at ringside. Back in the ring, Archer hit a running clothesline. Archer held Cody's hand, then walked across the ropes and hit a moonsault press onto a standing Cody for a two count as JR pointed out that Archer makes that look easy as a 6'8" guy. Mike Tyson was at ringside laughing at what he was seeing. Archer continued the attack with a hard chop to the chest and Cody finally got some offense going with a delayed suplex into a front slam. Archer got back into it with a release vertical suplex across the ring. Archer ripped the top turnbuckle pad off. Tyson was at ringside yawning, but then the camera quickly cut away. That was funny. Cody with knees to the ribs and Cody stretched Archer across the ring post. Back in the ring, Cody went up top, Archer got him above his head and tossed Cody onto the mat below. Archer choked Cody's throat across the bottom rope. Archer hit a uranage slam for a two count. Archer grabbed Cody's ear while he was on the mat. Archer hit a splash off the ropes for a two count followed by Archer slapping on an armbar and Archer yanked him down by the head as the camera was on Tyson, so we didn't see the move. Cody walked over to where Tyson was at ringside and Cody came back with some punches. Archer whipped Cody into the barricade. Cody got two forearm shots, but then Archer crushed him with a forearm to the head. They were out of the ring for a long time, but it's AEW where the referees usually don't count people out of the ring. I don't want DQ finishes. I just want the rules to be enforced because that's part of telling a story in the ring.
The wrestlers went back into the ring with Cody getting a rollup followed by a crossface submission. Roberts went on the ramp to complain about the referee, so Cody looked at Jake. Archer tried a cheap shot, but Cody recovered and Cody hit Jake's DDT on Archer right in front of Jake. Archer came back with a spinebuster, which was Arn Anderson's move, so they did the moves of the legends at ringside. Archer to the middle ropes, Cody with a jumping kick to the head and a springboard Cody Cutter on Archer for a two count as Archer did a power kickout. Cody ran the ropes with a running knee to the face. Cody hit some jabs, then an elbow to the face and Cody hit a Final Reckoning slam that Dustin uses. Cody hit the Cross Rhodes finisher for a two count as Archer powered out of it. Cody ran the ropes, did a Sting yell and hit a Stinger Splash on Archer. That meant nothing because Archer came back with a Chokeslam right away for a two count. Archer with the EBD Claw on the head where he slammed Cody's head into the mat a few times. The pace really slowed down as Archer walked across the ropes again, Roberts was on the apron to distract the referee and that led to Anderson hitting Archer's legs to trip him up with the referee not seeing it. Cody hit an avalanche reverse superplex off the top rope. Referee Paul Turner came out from the back and told referee Bryce Remsburg about it, so Anderson was ejected from ringside and so was Roberts. Arn said "bullshit" on camera while Tyson said yeah he's gone. Archer hit a release German Suplex on Cody. Archer was waving for something, so Jake went back out to ringside with a bag that might have a snake in it (likely had something else since the snake never appeared). Mike Tyson got in front of Jake to stop him from doing anything. Archer was a bit distracted by that. Archer picked up Cody for Blackout, but Cody got out of it and Cody hit the Cross Rhodes. Cody hit the second Cross Rhodes and pinned Archer to win the match at 21:55. That was Archer's first defeat in AEW.
Winner by pinfall and NEW TNT Champion: Cody
Analysis: ***1/4 A solid match with Archer dominating most of it, Cody showed the babyface heart that he is known for and Cody found a way to win. I liked that it took two Cross Rhodes moves back to back in order for Cody to put him away because it made Archer look stronger because it took two finishes to beat him. Tyson getting involved in the finish a bit was smart because he prevented Roberts from interfering, Archer was distracted by that and Cody took advantage to get the win. I think they would have had a better match if it was about five minutes shorter, but I still enjoyed most of what they did. The spot with the second referee coming out is rare because does that mean we're going to get that every time there's heel cheating? Of course not. They did it here and will likely not doing it regularly. I'm not trying to nitpick, but if you book matches like that with inconsistencies then that hurts the story of the match.
Mike Tyson went into the ring and presented the title to Cody while fireworks went off in the building. Tyson was shirtless by this point and looks great for somebody in his mid-50s. Cody celebrated with the title, he looked emotional about it and he kissed the title.
Analysis: Cody has been one of the best performers in AEW in their first year, so he is a good choice to hold that title. I think it was the right call for him to win.
There was an interview with Dr. Sampson backstage by Alex Marvez. Sampson said that Britt Baker had pretty significant injuries, he went over them and it was tough to catch it all. Sampson said that the patient is worse than the injuries. Sampson said that Baker will announce when she is planning on coming back, so she'll do that on Wednesday.
Analysis: After the show, Tony Khan said that Britt will be out for about eight weeks. That sucks, but at least it's not a major ACL tear that would be more like eight months.
It was time for women's action with Penelope Ford with Kip Sabian in crutches (to do some comedy selling after his ladder match) and Kris Statlander is the opponent.
Kris Statlander vs. Penelope Ford (w/Kip Sabian)
Ford with an armbar across the ring, then Statlander tripped up Ford and Statlander did several cartwheels to celebrate. Statlander sent Ford into the ropes and Ford bailed to the floor with Sabian calling Kris an "alien freak." Ford hit a draping DDT off the ropes for a two count. No Viper references by the announcers there, which is a surprise. Ford hit a suplex for two followed by Ford grabbing a headlock. Statlander knocked Ford out of the ring with a forearm and then Statlander hit a suicide dive onto Ford and Sabian on the floor. Statlander jumped off the top with nothing, Ford got a foot up and Ford hit a hook kick for a two count. Vickie Guerrero was shown yelling at ringside with JR saying that Vickie was a fan supporting the company. Statlander with a roundhouse kick and a release German Suplex. Statlander showed her agility off the ropes with a backflip and then a running knee. Statlander with a sitout Michinoku Driver for a two count. Ford came back with a reverse DDT for two. Ford hit a Stunner that may have been blocked, then Statlander avoided a charge and hit a clothesline. They battled against the turnbuckle and Ford and hit a sloppy looking hurricanrana that was more like a headscissors. Statlander came back with a Blue Thunder Bomb and the Big Bang Theory finishes it for Statlander at 7:58.
Winner by pinfall: Kris Statlander
Analysis: **1/4 This was just an average match. Statlander is a good athlete that showed off what she can do. Ford is okay, but Statlander is the better worker of the two. Some of the spots were a bit sloppy. They got through it fine, though. Statlander needs a better gimmick than the alien thing, but I guess she's sticking with it.
Shawn Spears walked out in a suit instead of his gear. Spears did a promo about how good he looked and said that Dustin Rhodes was at home washing his gear because he's retired. Dustin's music played, no sign of him and Spears laughed about it as if he had power to paly another man's music. Spears told referee Aubrey Edwards to call for the bell and count him out. The referee started counting and then Dustin's music hit again. Brandi Rhodes (Dustin's sister in law) appeared in the entrance and Dustin Rhodes showed up behind Spears. Rhodes punched Spears, then Spears punched back and the match was on.
Shawn Spears vs. Dustin Rhodes (w/Brandi Rhodes)
Rhodes sent Spears into the turnbuckle and took off Shawn's dress shirt. Spears was wrestling in his socks at this point and Spears came back with a clothesline. Spears took off his leather belt, wrapped it around his fist, gave the middle finger to Brandi and then Dustin came back with punches. Spears charged in right into a body slam. Rhodes took off Spears' pants to leave him in his boxers. Spears with an atomic drop followed by a clothesline and Spears shoved Dustin into the ring post. They showed Spears' underwear that had Tully Blanchard's face on his underwear. That was funny. Back in the ring, Dustin hit the Final Reckoning for the pinfall win at 3:20.
Winner by pinfall: Dustin Rhodes
Analysis: * A quick match to show that Dustin has a lot left and he shut up Spears. I thought they might use this to give Spears a meaningful win. Instead, it was about showing that Dustin is still great at what he does. This wasn't a nice showing for Spears, but at least he got to show off his personality. That's fine, but I would have preferred to see less of his ass. Sorry to my fellow Canadian, but it's true.
A commercial aired for the AEW All Out PPV on September 5, which is Labor Day weekend.
There was a graphic paying tribute to wrestler Hana Kimura (1997 to 2020). It's a sad story because she committed suicide due to bullying. Excalibur said we need to be nicer to eachother and he's right about that.
A video package aired promoting the AEW Women's Title match with Nyla Rose defending against Hikaru Shida. They did a nice job of putting over this match as a big deal. Shida has been booked well in the last few months.
The women entered for the match with Hikaru Shida first as the challenger. She's got a 9-1 record this year. Nyla Rose is the AEW Women's Champion with a record of 7-1 this year and she had a kendo stick with her.
AEW Women's Championship in a No Disqualification, No Countout Match: Nyla Rose vs. Hikaru Shida
Shida kicked the kendo stick out of the hand, but then Rose came back with a clothesline. Rose with three kendo stick shots to the body of Shida. Rose with a body slam on Shida for a two count. Rose charged, Shida moved and Rose hit the turnbuckle. Shida with forearms to the back while Rose was on the apron followed by Shida hitting a running knee lift. Rose came back by whipping Shida into the barricade. Rose with a press slam and slammed Shida through a poker table that was beyond the barricade at ringside. Nice spot there. Rose yelled at Billy Gunn and other people at ringside to move. Rose choked Shida with a steel chair while Shida's head was against another chair. Rose with a chair shot to the ribs. They went back into the ring with Rose hitting a side slam followed by a running splash for a two count. Shida countered a slam with a hurricanrana and a running knee to the face. Rose sent Shida to the floor with JR noting that you had to get back into the ring to win the match. Shida managed to hit a cross body block on the floor followed by a running knee to the back of the head. Shida dumped Rose over the barricade at ringside. They battled by the big poker chips at ringside with Shida doing a hip toss onto a big poker chip and Rose selling it like it was a big deal. Shida charged with a running knee to the face that sent Rose back first into a big poker chip. Shida got a hold of the kendo stick and she hit Jax in the left arm. They went into the ring with Shida hitting three more kendo stick shots including a kendo stick to the head. Shida hit a suplex onto the kendo stick for a two count. Shida went off the ropes with another running knee to the face for a two count.
Shida unloaded on Rose with punches, then bounced off the ropes and Rose hit a running powerslam. Rose set up Shida across the top rope, then Shida was nice enough to hold herself there and Rose went up top with a knee drop to the back. I don't like spots like that because Shida had to stay in an unrealistic position for about ten seconds to do that spot. Rose grabbed a table from under the ring and brought it into the ring. Rose set up the table against the turnbuckle, Rose picked up Shida, but Shida blocked a slam attempt. Shida ran the ropes, but Rose stopped her with a clothesline. Rose gave Shida a Powerbomb into the table against the ropes and that led to a two count with Shida getting her shoulder up. Rose worked over Shida with more kendo stick shots to the body. Rose took a long time to climb the top rope, so Shida threw the kendo stick at her. Shida hit an avalanche Falcon Arrow slam off the top for a two count. That was impressive. Shida charged with a knee, but Rose hit her with a kendo stick to the knee. Shida hit another running knee to the face for two. Shida hit Rose in the head with a huge kendo stick shot. Shida with another running knee to the face for the pinfall win to become the new champion at 16:40.
Winner by pinfall: Hikaru Shida
Analysis: ***1/4 It was a hard hitting match with the weapons coming into play throughout. They worked hard and told a good story with Rose being aggressive the entire time, but then Shida kept on coming back for more. I lost count of how many running knees that Shida hit although that's not a complaint. I'm just saying she did the running knees a lot. Rose nearly won with the Powerbomb through the table and then Shida was able to find a way to win. That kendo stick shot to the head sounded brutal, so that was a nice setup for the final running knee by Shida to win the match.
Shida celebrated with the AEW Women's Title. She was thrilled about it and did a nice job of making it feel like a big deal.
Analysis: I'm happy for Shida. She has impressed me in the past few months and she's a natural babyface that is easy to root for. I didn't predict the title change, but I'm fine with it.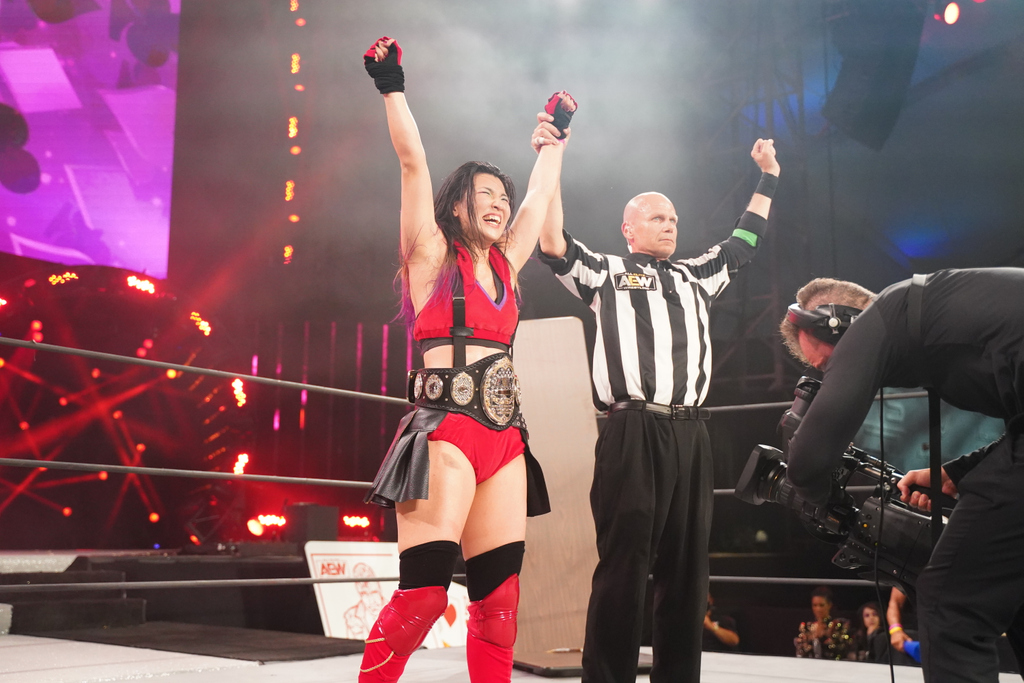 A commercial aired for AEW Dynamite.
The announcers talked about how it was a sad week for wrestling with the deaths of Hana Kimura and Shad Gaspard while noting that a lot of people in AEW knew both of them. Tony talked about how a lot of people are going through a lot right now, so they want to entertain us. Thank you to AEW and all other forms of entertainment doing their best to entertain us.
The AEW World Championship is next with Jon Moxley defending the title against Brodie Lee. A video package aired to set up the match. The story is that Lee stole the title from Moxley.
It was announced that this was the first of two main events. Brodie Lee entered as the challenger with three members of the Dark Order joining him. The Dark Order member Ten had a sling on his left arm after Moxley attacked his left arm and Excalibur claimed that Ten had a torn biceps injury. Lee was wearing the AEW World Title around his waist. Lee ordered his Dark Order guys to go to the back. There were five security guys standing in the ring to separate the wrestlers.
Jon Moxley made his entrance from a different part of the arena while wearing a Mox jacket. Even though he was the AEW World Champion, he didn't have the title with him. JR noted that they know eachother very well while saying that Lee was a 16 year vet, Moxley is a 15 year vet and they were in the same area when they got started. Excalibur said they wrestled a lot in the Eastern US earlier in their careers. They also spent the last decade or so in WWE, but it's not like they are going to say that. Moxley is 11-0 in 2020 and Lee is 5-0 in AEW so far. JR: "I heard Brodie Lee hates sneezing." Good line, pal. It's a Vince McMahon reference in case you don't know.
During the introductions, Brodie made Dasha call him the AEW World Champion and Lee held up the title. Jon Moxley was fired up and ready to go.
AEW World Championship: Jon Moxley vs. Brodie Lee
Moxley sent Lee out of the ring and hit a suicide dive that sent Lee crashing through a barricade at ringside. Lee with a suplex on Moxley on the floor. Lee sent Moxley into the ring with a senton splash followed by two suplexes. Moxley tried an attack off the turnbuckle, but Lee caught him and sent Moxley out of the ring followed by a suicide dive by Lee. They battled on the floor with Lee sending Moxley throat first across the top of a barricade. The referee wasn't counting them out of the ring, so the announcers tried to defend ignoring the rules. Lee hit a suplex onto a barricade that was against a railing. They went back into the ring where they exchanged strikes, Moxley with a running knee strike and Lee hit a kick to the head. Lee with a backdrop suplex, then a running elbow and Moxley came back with a running clothesline for two. Moxley hit a piledriver for a two count. Moxley set up the steel steps by the ringside table, but then Lee hit a running dropkick to put Moxley down. They were on the steel steps with Moxley hitting a back body drop that sent Lee through the table at ringside. They did a superplex spot with Moxley getting a pin attempt. The fight went to the floor again with Lee hitting an overhead suplex into a set piece that had some card graphics. It was a thin piece of board and Lee slammed Moxley onto the piece of board that had Moxley's face on a playing card. There were wrestlers chanting "Brodie sucks" at ringside.
They did a spot where Moxley tried a slam, but Lee broke free with a boot to the face. Lee hit a sitout Powerbomb for a two count. Moxley went up the ramp all the way to the stage with Lee going after him. Moxley threw a poker chip at him. The referee wasn't counting them out again. Moxley got a hold of Lee on the ramp and gave Lee a Paradigm Shift off the ramp and through the ramp that was connected to the ring. The referee called for the doctor to check on the wrestling. That was a cool spot to put both guys down. Moxley crawled out of the hole that was in the ring. There were referees, doctors and agents checking on both guys. Lee did a blade job while he was in the hole and he came up bleeding. The referee could have called a countout or DQ again, but that didn't happen. Moxley with a double arm DDT for a one count. Moxley hit the Paradigm Shift, which is the double arm rising DDT, for a two count. Moxley slapped on a tight sleeper hold/rear naked choke submission and Lee passed out in the hold, so the referee called the bell at 15:30.
Winner by referee stoppage/submission: Jon Moxley
Analysis: **** This felt like a fight from the moment it began and I thought it was very entertaining from bell to bell. I know I complained about the refereeing a bit because if they said this was a Street Fight then all of it would be fine. However, if it's a regular match and you don't enforce the rules ever then what's the point of having rules? That's all I'm saying. Anyway, I liked all the spots they did with Lee reminding us how great he can be while Moxley was vicious when he needed to be and then used a submission finisher to win. Moxley has been on fire in his one year in AEW in terms of his matches because he's improved a lot as a technical wrestler. I'm happy for Brodie because he got a chance to show what he can do. I'm not surprised that they had a great match considering how many times they have wrestled in their careers. Moxley retaining the title is what I expected.
Post match, Moxley was handed his AEW World Title and gave Lee the middle finger. Moxley celebrated with his title.
There was a commercial for AEW action figures. I have no interest in action figures, but that's nice that the company has them coming soon. The graphic let us know they are available in August 2020.
They showed highlights of the matches earlier in the night as we reached the three hour mark in the broadcast.
The video package aired for the Stadium Stampede 5 on 5 match in the main event.
There was a ring at the 50-yard line in the TIAA Bank Field in Jacksonville, which is the home of the Jaguars. The Jacksonville Jaguars cheerleaders and mascot were on the field to cheer for the wrestlers. The Inner Circle guys were introduced first and they were wearing football style jerseys for the match and some of them were in helmets too.
The Elite entered from another side in the stadium with The Young Bucks in their wrestling gear and Matt Jackson had taped ribs because he suffered a legit rib injury on Dynamite. Kenny Omega was next up as one half of the AEW Tag Team Champions and he's in regular wrestling gear. "Broken" Matt Hardy was up next. The last man up was "Hangman" Adam Page, who is the other half of the AEW Tag Team Champions, but he didn't appear immediately.
Analysis: This match was pre-taped on Friday night. I'm not going to review it with a star rating because it was pre-taped and edited after several hours, so it's not fair to compare to a live wrestling match. I will provide all the details as best as I can.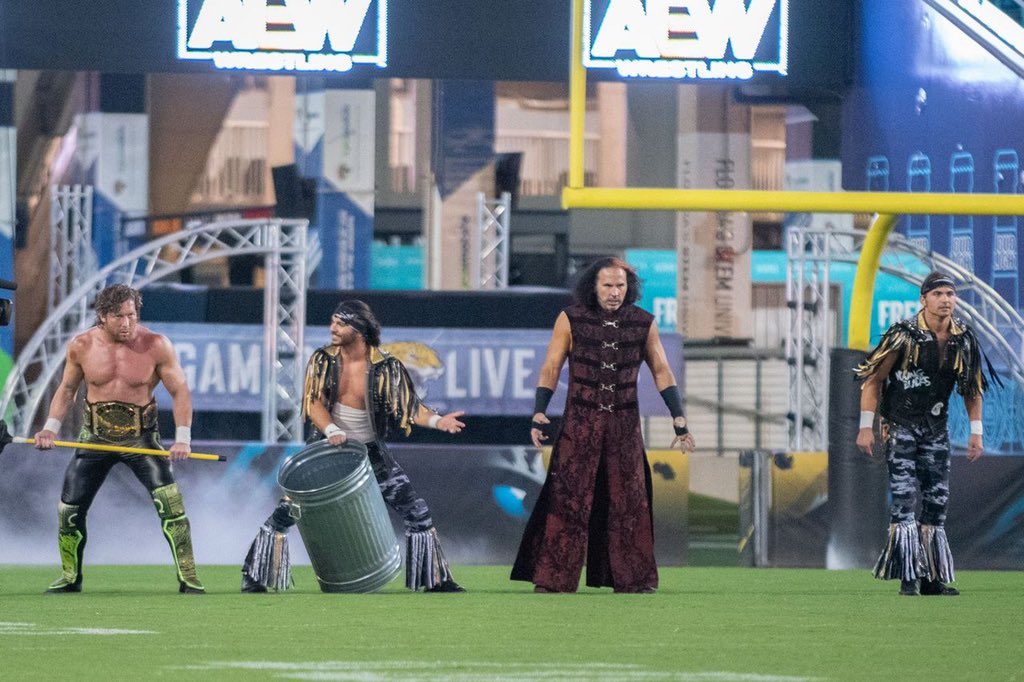 Stadium Stampede Match: Inner Circle (Chris Jericho, Jake Hager, Sammy Guevara, Santana and Ortiz) vs. The Elite (Kenny Omega, Nick Jackson, Matt Jackson, "Broken" Matt Hardy and Adam Page)
The wrestlers were brawling on the natural turf on the field. The announcers noted that you can pin somebody anywhere in the building. There were several AEW referees around to count the pinfall.
After about a minute or two of the wrestlers brawling around the field, Hangman Page entered on a horse and he chased after Sammy into the concourse area. Back in the ring, Nick hit a spear on Jericho and I should point out Jericho was wearing #27 with Jericho noting that was his father Ted Irvine's number when he played hockey. Matt joined Nick in the ring for a double team dropkick that sent Jericho out of the ring. Santana and Ortiz sent Matt out of the ring and then a double team slam on Nick. Matt was back in the ring with Ortiz hitting a Powerbomb and Santana hitting a knee. Omega with a Snapdragon Suplex on Ortiz and Santana. Hager with a lifting slam on Omega, Hardy with a side slam and Jericho hit a Codebreaker double knees to Hardy. Sammy made his way back out to the ring with a knee on Nick. Sammy missed a Shooting Star Press off the top on Hardy, who moved. Matt gave Sammy a Buckle Bomb into the turnbuckle with two kicks to the face and Hardy hit a Twist of Fate on Sammy. Jericho tripped up Omega and that led to more brawling on the field with Nick hitting a somersault dive off the top onto some guys on the floor. Santana hit a moonsault off the middle ropes onto some wrestlers on the ground. Sammy went up top with a Shooting Star Press onto some of the guys, but it didn't connect that well. The wrestlers spilled out into different parts of the field with Ortiz working over Hardy with a garbage can. Jericho sent Nick into a goalpost and Sammy sent Hardy into the goalpost. Jericho and Sammy worked over Nick with shots to the ribs. Matt Jackson brought out a ladder that he set up by the goalpost with JR noting the goalpost was 10 feet high and the ladder was about 12 feet high. Matt climbed up the ladder, Matt stood on the goal post and Matt hit a moonsault onto Jericho, Sammy and Nick for a two count on Jericho in the endzone. That was an impressive spot by Matt.
There was action in the stands as Santana and Omega were exchanging punches until Ortiz hit Omega with a pylon. Santana with a double axe attack to the ribs of Omega while Hager showed up to send Hardy into the walls. Page was still in the concourse area while on a horse and he was calling out Sammy, so Page was not really helping his team. Page got off the horse, he told it to stay and Page went to the East Club Lobby area to find a bar. Santana and Ortiz worked over Matt with the socks that had baseballs in them. Omega sent Ortiz into some trash cans while Santana sent Matt into a guardrail. Omega with the dreaded socks with balls to the back of Santana and he sent Santana into the guardrail. Omega with a body slam on Ortiz onto a trash can or a recycle bin as Tony pointed out. Ortiz threw some salt in the eyes of Omega and Kenny was slammed stomach first onto a guard rail. Santana and Ortiz gave Omega a Powerbomb through a guard rail that broke in half when Kenny landed on it. One of the referees was there to hold the guard rail to complete the spot. Matt Hardy saved Kenny from being pinned. Santana and Ortiz worked over Hardy a bit and they tossed Hardy into the pool. Santana jumped in, Ortiz said he can't swim and Ortiz was reluctant as Tony noted it was only three feet of water. Ortiz and Santana dunked Hardy into the water and Matt turned into Matt Hardy Version 1 and then there was a "Matter of Fact" stat on the screen. When they dunked Matt down, he turned into another version of Matt. Santana and Ortiz left again and Matt re-emerged as "Broken" Matt again with Excalibur trying to explain it was like water from the Lake of Reincarnation. Hardy said that Ortiz must pay for his transgressions. Matt set up Ortiz on a table that was conveniently nearby. Santana charged Hardy and Hardy gave Santana a back body drop on Santana onto Ortiz onto the table that was now broken. Hardy rang a bell and Ortiz sold it comedically. Hardy had a "chair of wheels" aka wheelchair and Hardy put duct tape on Ortiz on the wheelchair. Santana battled Hardy near an ice chest with Hardy dumping Santana into the ice chest. Hardy locked him in the ice chest with a broom handle and said this will help with inflammation.
Analysis: The drowning bit with Matt Hardy to set up the wardrobe changes was fine for Matt's character, but I don't think it's smart to do that considering how Shad Gaspard died earlier in the week. I know it was a comedy spot here and Shad didn't die in a pool, but it was because of water in the ocean. I just think maybe you figure out some other way to do a spot like that.
Jake Hager was shown walking in the concourse area when he ended up spotting the horse. Hager realized where the bar was, so he found Page at the bar having a drink. Page gave Hager a drink, they each drank and then it turned into a fight. Hager tossed Page over a pool table and Page got a pool cue that he used to hit Hager over the back. Hager no sold that, Page tried to attack, but Hager caught him and Hager gave Page a uranage slam onto the pool table. It didn't break the table. Hager put Page onto the bar counter, then drove him across it and that knocked over a lot of drinks that were there. Hager gave Page a Gutwrench Powerbomb through a table for a two count. Kenny Omega showed up to the Hager/Page fight and Omega smashed a bottle on Hager's head. Omega and Page smashed three bottles on Hager's head and Omega hit a rising knee. Page hit the Buckshot Lariat clothesline that sent Hager over the bar counter and then behind the counter. Omega drank some milk while Page had some whiskey. They left the bar.
It was back to the football field with Matt whipping Sammy into a ladder. Matt went for a German Suplex on the field, Sammy got back on his feet and Matt hit three Northern Lights Suplexes on Sammy. Jericho tossed Nick over the bench on the sideline. Jericho got a yard marker and hit Nick in the head. It was back to Nick hitting more Northern Lights Suplexes on Sammy. Jericho got a bullhorn to trash talk Nick, but then Nick kicked him in the face and Nick threw footballs at Jericho. Jericho sent Nick into the mouth of the Jaguar. There was a Jaguars mascot there, so Jericho hit him with the Judas Effect. Matt hit another Northern Lights Suplex on Sammy, so the idea was that he was giving him 100 yards of suplexes even though we didn't see all of them. That's the idea. Nick with a superkick that sent Jericho into a kicking net. Jericho got Floyd the bat that he used to hit Nick in the head multiple times leading to a two count. Jericho challenged it like in an NFL game, so they showed the replay and showed that it was just a two count. Jericho: "You're a shitty referee." They were into the other endzone with Matt hitting another suplex and Matt spiked Sammy on his head. Matt danced, so the referee said unsportsmanlike conduct, he threw a flag like football and Matt hit a superkick on the referee. It was back to Jericho battling Nick by a table and you can tell there was an edit there. Anyway, Matt saved his brother Nick and Matt had Jericho caught on a table. Nick ran down the stadium steps for some momentum, then onto the railing and Nick hit a diving splash onto Jericho through the table. That was an impressive leap. Page showed up with the line marker that he used to go right over Jericho and kept on going.
Sammy was crawling on the field when the sprinklers went on. JR: "This poor bastard can't catch a break." Sammy looked around thinking he won the match since he was the only one standing. Matt Hardy showed up driving a golf cart with Kenny Omega just line on Dynamite a few weeks ago. Hardy drove the cart, Sammy ran away, the referee chased after them and Sammy jumped over the wall to get away. Sammy was throwing chairs at The Elite guys and then Sammy went running up the steps. Sammy kicked Omega and he kicked Hardy. The announcers noted the other Inner Circle guys were wiped out. It was NEO 1 instead of Vanguard 1 and Sammy was distracted by that. Omega with a V-Trigger knee on Sammy. Omega lifted Sammy up and he hit a One Winged Angel from the seats through some table or padding or something on the ground. It was fall of about 15 feet high. Omega put his hand over Sammy and referee Aubrey Edwards counted the pin. The Elite wins at 34:05.
Winners by pinfall: The Elite (Kenny Omega, Nick Jackson, Matt Jackson, "Broken" Matt Hardy and Adam Page)
Analysis: I mentioned earlier I'm not going to rate it with star ratings. You can't compare it to regular matches. With that said, it was a lot of fun and I laughed at all the comedy spots. I think they came up with some creative things as well by having Page have his fight with Hager in the bar with Omega helping Page take out Hager. Jericho was pretty funny as he got destroyed by the Young Bucks and then Page went over him with the yard marker. The bit with Matt hitting the suplexes on Sammy for "100 yards" (sort of) was clever. I even liked Matt hitting the superkick on the referee too. The Hardy fight with Ortiz and Santa was okay, but as I mentioned I wouldn't have done a drowning thing like that. The finish was a big spot with Omega winning in impressive fashion. Guevara was one of the stars of the match just due to all the comedy bumping he was doing. I thought he was very funny. It felt really long at 40 minutes. Maybe if I wasn't writing about it I would have liked it even more, but it just felt long to me considering we were already past the three hour mark in the show. It's not a major gripe. I'm just saying I was tired by the end of the night. The right team won with the babyface Elite group going over as I predicted. That was the smart way to end it.
After the match, Matt dumped some Gatorade onto Omega and Page on the field. The Elite with Hardy celebrated the win. The Elite with Hardy did their poses while the fireworks went off. That was the end of the show.
This event had a run time of 3 hours and 45 minutes.
Five Stars of the Show
Jon Moxley
Brodie Lee
The Elite
The Inner Circle
Hikaru Shida/MJF/Jungle Boy
Final Thoughts
It gets a 7.5 out of 10 from me.
This was a pretty good PPV with several interesting matches. The Stadium Stampede is likely what most people are going to talk about just because of how unique and fun it was. If you go into it with an open mind then you can enjoy stuff like that. It was entertaining to me because of the comedy bits as well as the huge spot to end it.
In terms of the regular matches, I liked Moxley vs. Lee the most with Shida vs. Rose and MJF vs. Jungle Boy also standing out as pretty good matches. Some of the other matches didn't do much for me. The opening Ladder Match felt way too long and that hurt it.
I wouldn't call this a must-see show by any means and I think Revolution earlier this year was much better, in part because there was a hot crowd there along with a standout tag team match. This show was lacking in terms of a truly special match. I still think everybody worked hard and I enjoyed most of Double or Nothing.
My ranking of 2020 AEW PPVs so far:
Revolution – 8.5
Double or Nothing – 7.5
===
Thanks for reading this review. My contact info is below.
Email: mrjohncanton@gmail.com
Twitter: @johnreport
Personal Facebook and TJRWrestling on Facebook